Starting a motorcycle club is a great opportunity to share your love of riding with others who share your passion. Bike riding adds a sense of adventure to your life. As the club's president and founding member, you hold the authority to make decisions that shape the club's future. 
From branding and recruiting new members to organize group runs and choosing formal officers, the head of the group makes decisions according to the situation that aids in the development of the image of the club. It is the responsibility of the head to keep order in the club and take care of legal and other matters.
Types of Motorcycle Clubs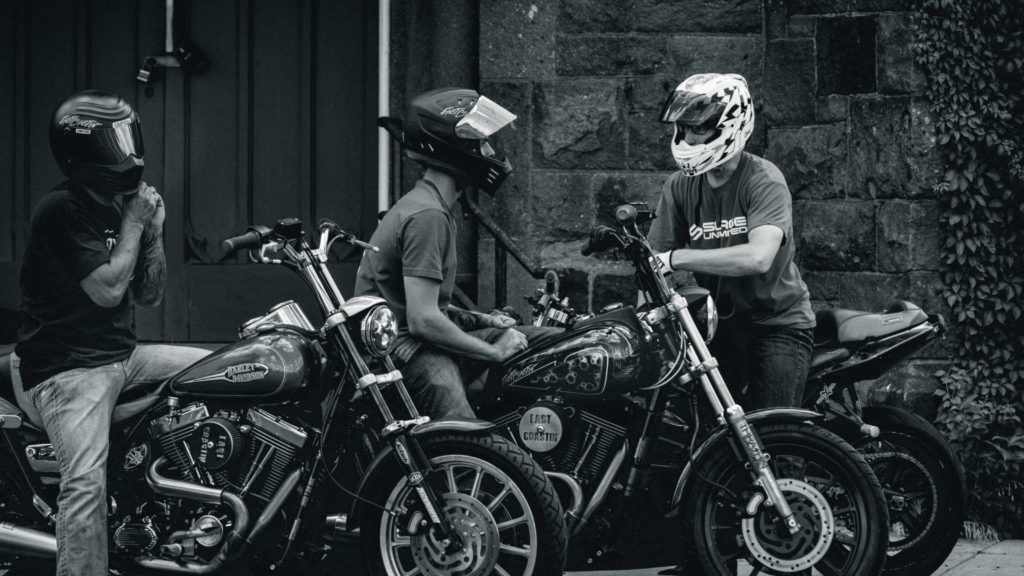 1. Riding Club
A riding club is a group of friends who enjoy riding motorcycles together. They get together to mingle and ride their bikes on occasions. Owners of a specific motorbike brand may form these clubs, such as riding groups for Harley-Davidsons, BMWs, and other motorcycles.
However, most riding clubs welcome visitors and members from different clubs. The clubs connect individuals who may or may not own the same motorcycle brand. It is not difficult to know how to create a motorcycle club of this type. All you have to do now is meet and ride with individuals who share your passion for bikes. 
2. Motorcycle Club
This is the type of motorcycle club that the government recognizes. To identify themselves, members frequently wear club vests. The backs of the vests contain three-piece patches. That is why MC is known for the three-piece patch MC. The name of the motorcycle club is knit into the upper part of the MC patch. The club's logo is in the center, while the name of the locality, state, or city where the chapter is located is on the bottom area.
However, it`s not the same as starting a typical riding club; learning how to start a motorcycle club is slightly different. The MC usually protects the location of the MC. In addition, there should be a dominating club that rules over all other MCs. A national organization will also be established to facilitate cooperation and communication between the various MCs. The Confederation of Clubs is the name given to this organization (COC).
To form a legitimate MC, you'll need to contact the most influential local club or the COC. First, they will wonder and think about the facts that why you don't join one of the existing MCs. Then, they will allow you to start the club if you give them a logical answer. If your answer isn't satisfactory, though, you won't be allowed to start the new club.
Building Your Club
Step 1. Select a Theme for your Club
Make sure you understand the reason behind starting your motorcycle club in the first place. Is it all about your passion for motorcycles, or is it more about your desire for connection with other bikers and a feeling of freedom? It would be best to understand the main behind starting a new club when you could have joined another well-known group. There must have been set a purpose that leads you to make your club. Such questions will assist you in establishing a vision and a purpose that you can use to steer the process.
Riding clubs, which are primarily apprehensive with the riding at work while discussing bikes, and "MCs," capable of embracing more tribe-like aspects of the culture cycle, are the two main types of motorcycle clubs. Of course, if you're only interested in riding, you won't have to worry about projecting a positive image or developing a club hierarchy. Instead, you can simply have fun with other riders and take no responsibility for other matters. However, if you're thinking about taking the MC course, you'll want to keep these things in mind.
Step 2. Brands of Bikes
Consider whether you'll accept all bikes or just a select few. Some organizations insist on their members riding the same brand. For example, the Harley Owners Group only rides Harley Davidson motorbikes. Although this is no stated rule, you are completely free to accept anyone, regardless of what they're riding on. It depends on your choice and comfort, and what you prefer.
By inviting all bike owners to join your club, you will be able to enjoy the joy of riding with a larger number of individuals who are equally passionate about biking as much as you are. If you're passionate about a certain bike brand, it can make more sense to limit your membership to owners who share your enthusiasm.
Step 3. Select a Name
Make a name for your club that is appropriate. Put some thought into what you want to title your club now that you've described your reasons for forming it. Select a name that reflects some aspect of your image or mission. Giving a name to your club will give you an individual identity you may recognize in the bikers community.
To establish individual identity and separate themselves from other organizations with similar names, most motorcycle clubs include their town, county, city, or territory. This helps other bikers distinguish between the two with similar names, reflects your identity, and shows more about your image.
Suppose you plan to build a positive and appealing image of your club in the society that can attract the attention of other bike lovers, avoid names that sound extremely violent, scary, or derogatory when naming your club. Such titles may tarnish your club's reputation unjustly or even draw the attention of local law police.
Step 4. State a Mission
If you reside near a major city, there's a good possibility that at least one other MC is already in operation. You can communicate your aims for your group and explain what sets it apart from others by writing a concise mission statement. Try to portray the principles and ideals that first came to mind when you decided to start your club, as those principles will lay the true foundation of the formation of your individuality.
The mission statement should be appealing and inspiring for all the young bikers who love bike riding and plan to join a club at some point. It should be able to represent a good side of motorcyclists and must motivate others to continue with their passion and work to achieve more in the field and become an inspiration for others. By writing a mission statement for your club can also help you strengthen your vision and ideology for the betterment of your club.
Step 5. Design a Logo
Make a logo and other graphic components to help people recognize your club. Using your imagination create an emblem that represents what your club stands for. If you have graphic design skills or know someone who does, take out time and design your logo. You may also hire a professional artist to create a logo for you based on an original concept so that you can get an appealing logo design as per your choice.
A logo and its colors serve as a visual reflection of everything you accomplish. You may use it to stamp your club's identity on everything from personalized clothing and accessories to newsletters, social media profiles, and also business cards. So choose the logo wisely so that your club members can get a feeling of owning the club using the logo stamps.
Step 6. Registering the Club
Filling out a few forms, presenting a business plan or objective proposal, and supplying the names of your primary committee members are frequently all it takes to be recognized as a non-profit. Your club will be eligible for liability insurance, solicitation licenses. It includes other legal benefits such as sales tax exemption and many more.
Your mission statement should meet the criteria for a business plan or proposal. By registering the club as a non-profit organization, you give the club its uniqueness and distinction. Somehow it gets acknowledged by the government as it is accepted by society attracting the interests of more people.
Step 7. Accepting Members
After forming groups, now you mat accept people into your club who are enthusiastic about biking. First, you set certain criteria and an application form that people fill. Then, you collect their relevant information and let them enter the group to enjoy the ride with other riders.
Final Verdict
Biking is a passionate activity, and it requires immense interest to enter to bikers community. Taking out time to be part of the bikers club shows one's determination. Unlike in previous times, biking has become safer. It is now attracting more attention from people since it is now becoming acknowledged by the government and so is considered by the people as well.