Gloves keep your hands warm while also strengthening your grip. In addition, they prevent injuries to your hands in the case of an accident. New riders frequently perceive them as being worn primarily to add a sense of style to a rider's personality. Each of these two types has its own set of benefits, so your choice will be based on your particular preferences. 
Short Cuff Gloves
Short-cuff gloves have a shorter cuff than their gauntlet-style counterparts. If you're searching for something easy to put on and take off and very comfortable while riding, these gloves will be your go-to product. Considering the cost, they are a less expensive option. There are various types of short cuff gloves which are mentioned below.
1. Short-Cuff Gloves for Summer
Summer riding gloves with short cuffs and venting are made of lightweight, breathable fabrics so that you do not feel uncomfortable wearing them. In case they get wet while riding during rain, even though they aren't usually waterproof, but they do dry quickly. They usually come in a variety of colors and designs, so you'll have no trouble finding a pair that goes with your outfit.
2. Short-Cuff Gloves for Racing
If you like to go to track days or race your motorcycle, you'll need extra protective gloves. The race gloves are composed of leather. They have additional strengthening patches on the palm for a greater grip. These gloves protect your knuckles as well as the palm of your hand.
3. Sort-Cuff Gloves for Winters
Winter motorcycle gloves with short cuffs are made to endure colder weather. These gloves will be insulated to differing degrees, making them suited for a variety of temperatures. However, because these gloves aren't very breathable, they can make your hands sweat if it's too hot outside. So it is better to wear them only in winter.
4. Short-Cuff Gloves without Fingers
These fingerless gloves protect your palms and the backs of your hands. Each of your fingers has its opening. Because you have maximum airflow, these gloves may be cooler. Your fingertips, on the other hand, are unprotected. Leather gloves are the most common type of fingerless gloves. The good thing about these is that you may use your hands freely while wearing them. You can also use your phone while you are still wearing them. 
Gauntlet Gloves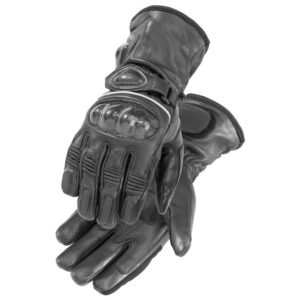 Gauntlet gloves are often more appropriate to be used in bad weather. This is why these gauntlet gloves come with a lot more waterproof and thermal options. In addition, gauntlet gloves provide weather protection and often provide better coverage and crash protection, which is why most track day organizations demand them.
Gauntlet gloves are designed in a way that makes them suitable to wear over the sleeve. If you want to keep cold air and rain out of the sleeves in bad weather conditions, these gloves are the best option for you since this gauntlet glove gives additional weather protection. Unfortunately, although the gauntlet design is comfortable and helps reduce bulk around the wrist, they are a nuisance to put on and take off.
Comparison of Short Cuff Gloves and Gauntlet Gloves
Gauntlet motorcycle gloves provide better protection than motorcycle gloves with short cuffs. Of course, there are always high-level short-cuff gloves that are safer than inexpensive gauntlet gloves, but gauntlet gloves are your best bet if the rider's safety is concerned.
The gauntlet motorcycle gloves provide wrist protection. When you're in a car accident, the first thing you do is extend out with your arm to break your fall. The sleeves of your jacket may slide up, displaying your wrists. That's when the gauntlet gloves' wrist protection comes in handy.
The level of comfort provided by these gloves is a personal choice. The gauntlet gloves keep you warm in the spring and fall. The short-cuff ventilated gloves, on the other hand, keep the hands cool in the summer. So it depends on your requirement, which glove you choose.
Significance of using proper Gloves while riding a motorcycle
Gloves are an eccentric part of motorcycle gear for any motorcycle enthusiast, especially in winters when one cannot ride with bare hands in the cold frosting snow. However, there are certain measures for which you can keep your hands safe from the dust and frost by protecting them while wearing gloves that serve you just the right purpose.
Gloves Protect the riders from crashes:
While riding a bike, there are always unprecedented accidental hazards that could be health hazardous for you. However, by wearing gloves, one can protect their hands from getting scratched or injured from the joints such as fingers, wrists, and knuckles. 
Having said that, whenever a rider faces an uncertain condition upon the road, the first response is that they usually try to halt the crash momentum with their hands. For that reason, these ergonomically designed and well-padded gloves are essential to prevent injury.
Regulate the weather conditions:
While riding a motorcycle, a rider is always exposed to the rain and sudden climatic changes. For that purpose, several gloves offer comforts, passive ventilation, and above all, become the perfect gear for insulation. 
FAQs
How tight should my gloves be?
Gloves for motorcycles should not be very tight and should not also be excessively wide. Be sure you can comfortably grip your handlebars, clutch, and brake. If you buy too big of a pair of motorcycle gloves, you can find yourself with freezing fingers.
Why do motorcycle gloves have knuckle protection?
Knuckle protection is available on almost all motorcycle gloves. The knuckle is one of the most exposed parts of the hand, and it's also one of the most readily broken. That's why most gloves have knuckle guards. 
Can you stretch leather motorcycle gloves if they don't fit?
If your leather motorcycle gloves don't fit, you can slightly stretch them. However, it is strongly discouraged since by doing this, you overstretch the stitches, so the gloves do not remain as tight as they are when new. But it is advised to swap your gloves for a larger pair while you still can.
What are the benefits of wearing gauntlet gloves?
These gloves can provide additional support and protection to your hands. Warriors in the past used to wear gauntlet gloves to strengthen their protection. Gauntlet gloves, also known as just gauntlets, are a type of glove that extends past the wrist to protect the wearer's forearms.
Can I use a washing machine to clean my motorcycle gloves?
It is dependent on the type of material. For full washing recommendations, consult the product manual. For example, leather absorbs fluids, becomes stiffer, and loses its form as it dries; thus, washing leather gloves in a washing machine is not recommended.
Final Verdict
Before you invest in any glove, check for gloves that are the right size for your hand. They shouldn't be so tight that your hand movement or blood flow is restricted. Invest in the glove that should have a cuff that safeguards the pivot joint around your wrist to keep the gloves on your hands. Finally, check for the glove that is not only well ventilated but also provides extra protection to your hand.