Every person ought to buy a new vehicle or update a previous one. In the case of a motorcycle lover, this change is quite often. The reason is the high flux of new and advanced motorcycles that are coming into the market. Getting a used motorcycle might lead to a series of issues with the motorcycle. So mostly it is preferred to buy a new one.
For buying a new motorcycle, you probably need to look for a series of facts before deciding upon the one. This might include its price, the dealership authorization, and its reviews. This guide will highlight some of the areas which you need to look for while buying a new motorcycle from a dealer. 
So let's have a look at some basic principles.
Getting yourself a new motorcycle 
There are several ways for which you can get yourself a speedy and up-to-date motorcycle. The process continues by formulating a budget plan by researching a little about the value and worth of that desired model. 
Doing so will lead to multiple select options for your desired specifications. At the same time, you can always create a plan, speak with the dealers, and strike a deal. The value of that item depends upon the demand of that model. Whereas, if there are more interested customers, the value could go high and low considering the options. 
Look for an Authorized Dealer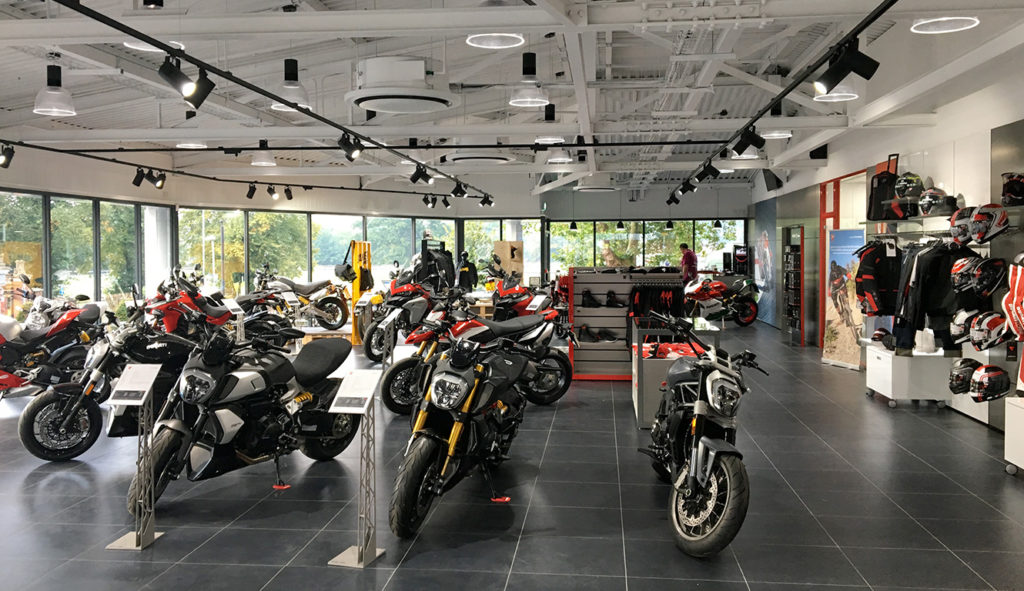 You need to have a good look in your surrounding to reach a proper dealer. Most people often complain about buying a motorcycle from an unauthorized dealer. Such dealers tend to deceive people for the sake of money. So search in your surrounding to reach the right one. Usually, it would be best if you went for the one who has some reputation.
You can contact some of their previous customers or other people who have good bikes. This will get you a brief idea of the dealers in your surroundings that are credible and customer-friendly. Don't go for a dealer about whom you find bad reviews.
There are probably several dealers who love to make you their permanent customers. Such dealers are usually authorized and have better services. We would prefer if you would spend more rather than saving money and reaching an unprofessional dealer.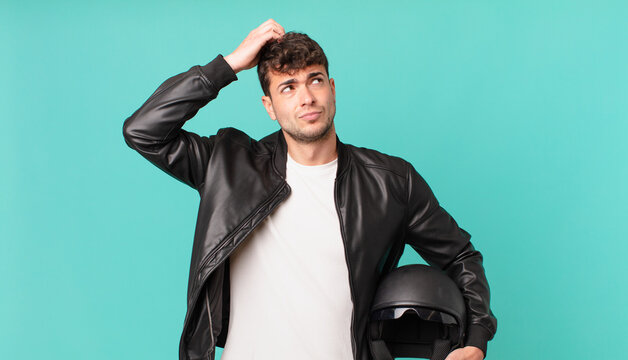 This depends on the research and the number of bikes you see at the dealer's shop. No need to be shy about considering a new option in front of the dealer. You are spending your money, so why not spend it for the best?
You need to decide upon your budget before reaching the bikes. Moreover, the specifications of the motorcycle also play a major role. SO the only way to get to the best is to have a test drive or sit on a bike to get an in-depth analysis. 
It would be best if you asked all kinds of questions for your satisfaction. The salesperson is there to help you in getting a good idea of the bikes on the floor. You can get a demo of the bike if the dealer is ready to give you one. 
When you are going to buy a bike, you are most probably going to decide your budget. The specifications and the cost you are going to spend depends upon you. When you go to the dealer's shop, make sure to get a brief idea of the prices of all of the bikes they possess.
People usually believe that the prices might be higher than the other bikes, or dealers might have a high margin over them. However, it depends on the brand as some new bikes are cost-effective and have dealers get less margin from them. So you might get a better motorcycle in your range. 
You can go for a previous model with more features, and the dealer might give you some extra discount. In addition, you can have a look at tax and registration fees. These are some areas where the dealer can help you a lot. 

This is a factor that can help you a lot when it comes to getting a motorcycle from a dealer. You might be thinking that how time can be a factor, right? Well, would you prefer to have ridden on the bike during spring or n cold weather? 
Probably, you would prefer to go around during sprigs as the weather conditions are more suitable. The same is the as of dealers. Usually, during winters, the dealers are quiet and have better offers to sell the motorcycles. 
Dealers would provide you with better offers and give you an excessive discount as their business is affected during winters. So if you have n such urgency of getting a motorcycle, we would prefer you to go for winter. 
Go for Pre-registered Motorcycle
Every dealer has some target of sales to each in a year. So what they do is buy the bike and get it registered with their dealership. Now the motorcycle is new, but it only has one owner. This will save you some cost as the warranty is running out.
You can get a brand new bike in this way and can save money as well. Just have a look at the remaining warranty, do some bargaining, and hit the road. Through a pre-registered bike, you can get higher specifications at a lower price.
You can also get a ride of the bike through a demo for your satisfaction. Such bikes are used very little and are as good as the new ones. So why need to spend more? 
This factor is as important as cost and specifications. You need to understand the deprecation curve of the price. If you are a bike lover, you would probably wish to upgrade your bike after some time. If the cost has fallen more than your budget, then it can be a problem for you.
Generally, the deprecation cost in the case of bikes is huge. Every year the price might fall by 20%, and it can have serious effects on your future goals. However, as soon as you get a new bike out of the dealer shop, the price falls by 5%.
If you have excessive money then fine by us, we would prefer to go for a used bike. This way, you can get a bike at a lower price, and the deprecation would affect you the least. Instead of this, some brands have a better reputation, so the deprecation s quite low.
Take the example of Harley. Its bikes are most reputed and have high market demand. So if you are selling it after some time, its demand would never decrease. So when you go to a dealer, get a motorcycle of some reputed brand. 
Specifications of Selected Bike
We know that you do some research before going to the dealer store. However, you can never get a better idea as it is not your profession. So, while browsing through the bikes, when you decide the one that you have been looking for, get to know more about it.
The salesperson is usually there to help you clear your ambiguity. Don't feel shy in asking a question. The salesperson would tell you detailed information about the specification of the bike. He can also guide you about the other options you have in your price range.
Survey of Service Department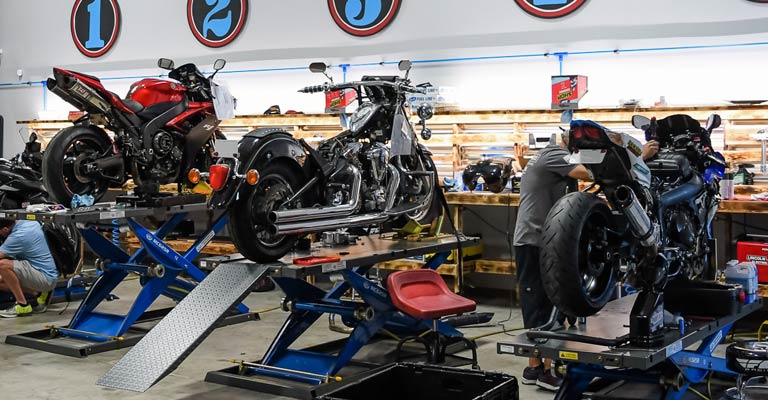 Whenever you go to a dealership, make sure that the salesperson gets you in contact with the services department. You will soon interact with them the most, and their working efficiency matters the most after you get the bike.
You might need any information or their services after some time. So if the department has good links with you, then you can get better services from them.  
Benefits of getting a new motorcycle from a dealer
There are several advantages when you ought to buy a new motorcycle for yourself. However, given the advancement in technology, purchasing new tech while sitting at home from a distant place became an easy task. Despite that, there are some issues regarding the online purchasing of such heavy items. 
Sometimes, there is no reliable source that ensures and guarantees the authenticity of the item. However, a customer sometimes needs to connect to the dealer himself. Therefore, purchasing a new bike from the dealer is a reliable yet durable experience. Here are some of the advantages you might want while replacing your old and weary motorbike. 
Initial demands of the customer
A customer finds it more useful if they have cleared their demands and specifications for the motorcycle they are interested in buying. Moreover, it makes a purchase and dealing easier if the customer has developed an insight into the model he`s interested in. 
It is always essential that you should do a little homework before making a purchase. To avoid such a hassle, you should know the worth and value of that model, or else you might get conned into offering more money than the actual value. 
Defining your budget 
While communicating with the dealer, you must understand where you both stand their ground. Defining a budget is the initial step one should be aware of. However, you might get stuck in a situation where you risk more value than the budget you have kept in mind. 
Along with that, always keep in mind the additional costs of that model. You will put value in different expenditures, such as from the workshop and taking it into home, taxation, ownership, registration, accessories, safety gear, shipping costs, etc. In addition to the motorcycle cost, these factors also require attention. 
Lookup for multiple brands and models
To get an ergonomically designed and speedy motorcycle, look out for the multiple brands and their offering in your budgeted value. Then, choose at least the top 3 models that you think are more suitable for you. 
This way, it will be easier for you to compare and contrast their pros and cons and the features they have in common, and what`s so special in their manufacturing makes them unique. 
Moreover, narrow down your search a little bit more so that you can reach your desired motorcycle model. It will also let you decide the most worthy one by having a true and legitimate comparison among them. 
Creating a legitimate plan
You can always ask questions from the dealer about the things you find confusing in that model. However, it is so not possible in an online purchase. Based upon the exchange of information, you can always cut a deal where you both could get benefited. You can start making a bargain. 
Sometimes, your initial offer gets accepted. Otherwise, you increase the value for the most wanted and desired model. It rarely depends upon the specification but more upon the demand. If more customers are interested in that specific model, the seller or the dealer might get the value double up. 
Buying Guide
For the motorcycle enthusiast, there`s always something catchy in the newer models that they desire. To fill in their lust for advanced and upgraded bikes, here are some important factors they should keep in mind before making a purchase. Look out for these features before you make a wrong choice. 
Comfortability
Before you buy yourself an ergonomic bike, make sure to ride a few miles. This will ensure that if the bike is comfortable and sturdy for you. Also, check if the seat is comfortable and perfectly padded for long road trips. 
Make sure that the accelerator and brakes are in perfect shape and running. These two are the most important part and ensure the safety of the rider.
Outlook of the Motorcycle
The bike needs to keep it covered with the proper accessories. These layers will protect your motorcycle from the harshness of the weather. The wind gets it all dusty and rough. Make sure to maintain its outlook by polishing the surface and maintaining the parts to their original form. 
Safety of the rider
Whenever a biker looks at his new model, he gets high and excited. Moreover, when the adrenaline kicks in, it gets much more exciting. First, however, make sure that you have all the necessary accessories to keep yourself safe. 
Always wear a helmet before riding on long journeys. This will help you avoid the injuries that the accidents cause. Furthermore, riding defensively will get you going through the harsh weather and will keep you safe in heavy traffic. 
FAQs
How much do dealers make on new motorcycles?
This solely depends upon the model and the flooring cost. On an average basis, the dealers can have a margin of a maximum of 15%, and on the usual basis, they have a margin of 5%. If flooring cost is included, then the margin is even lower. 
Should I buy a used motorcycle from a dealer?
Normally it is preferred to buy a used motorcycle. The reason is that its benefits are more than the new one. First of all, the deprecation cost has a lower effect on your spending. Similarly, a used bike is less costly and sometimes almost new as people shift to a new one as soon as a new model is launched. 
What is the best month to buy a motorcycle?
There are many speculations about which time of the year is best suited for buying a bike. Usually, winter is the best season in this regard. The demand for bikes is quite lower due to the freezing temperature. The dealers are in a rush to sell their items. So you can get exclusive offers and better services at that time. 
Are motorcycles expensive to fix?
Well, motorcycles are not more expensive in maintenance than cars. The reason is that they have fewer parts, and their only maintenance is an oil change. So they are easy to afford than cars. 
Final Verdict
Before making a hasty purchase, ensure that you got all the useful information you will need for the negotiation course. Information is key for which you can find yourself an amazing offer. If you are clear about your research and have created a plan about the tips listed above, you are closer to achieving the best motorcycle to replace the old devastated one.  
It is good to get better research when you buy a new motorcycle from a dealer. The authorized dealer can help you get a good bike and at better prices. You should check the specifications when you get a bike.
I hope this guide would have helped you reach a decision. You can feel free to add your personal experience. Thank you.