In the intercom industry, Cardo has a huge name for its top-rated and advanced intercom devices. Cardo Packtalk Bold and Slim are the company's two primary devices. Both of them almost have the same functionality but have a different look.
The Cardo Packtalk Bold has a more thick profile, which helps in increasing DMC signals. In comparison, Cardo PackTalk Slim has a slimmer design that will suit your helmet and profile. 
When comparing their sound quality, these devices consist of a JBL sound system, which provides a brilliant sound quality to the rider. So, both of these devices have great high definition sound quality undoubtedly.
PackTalk Bold and Packtalk Slim provide a good range of connectivity due to DMC meshwork technology. The Packtalk bold provides a range of 1.6 Kilometers, while the Packtalk Slim provides a range of 1.2 km.
These intercom devices provide up to 13 hours of talk time and a standby time of 7 days. The battery of Packtalk Slim is not integrated, which has to fit separately, while Packtalk Bold has an integrated battery.
The price range of Packtalk Bold and Packtalk Slim is quite the same; there is not much difference in pricing as both provide the same advanced features.
Some of the main differences between both intercom devices are mentioned below in detail, so you can pick which one is the best for you.
Design
The first and most obvious difference is the appearance of both devices. The name of both devices tells a lot about their looks. Packtalk Bold has a dense, thick shape and is equipped with a foldable antenna to expand the radius of the DMC web system. 
On the other hand, Packtalk Slim has a tenuous profile and stylish appearance, making it less noticeable on your helmet. Despite being 18.5mm thinner, Slim still provides battery life as same as the Bold PackTalk.
Packtalk Slim and PackTalk Bold are water-resistant devices, so you can easily travel without having to worry about the weather. 
This feature is something that every motorcycle rider should have because they travel in cold, wind, and rainy weather. It is important to have a waterproof intercom device with you.
Range
Bold and slim devices are equipped with Bluetooth 4.1 technology and DMC mesh network technology. With this technology, you can chat with up to 15 fellow riders.
PackTalk Bold range of driver's one-to-one distance is 1.6 kilometers with the extended antenna. It also depends on driving conditions as well. If you have six fellow riders, you can increase your range up to 8 kilometers or 5 miles. 
PackTalk Slim cruising range is slightly shorter than Bold, with a radius of 1.2 kilometers or 0.8 miles, but if there are more than six drivers with you in the DMC grid, it will go back to 8 kilometers.
Cardo wins the game of range in these devices. Other than other manufactures, no one provides this many reliable intercom services. 
Voice Controls
All Cardo devices have a voice command feature that enables hands-free operation. It is a digital sound processing unit in the hardware itself. 
This function is the same as the Hey Siri and Okay Google function on phones for finding routes or controlling home appliances. You can command the device to do your tasks like Hey Cardo change the music or Hey Cardo check battery status by simply saying Hey Cardo.
In some circumstances where you cannot remove your hands from the handle, this feature is very useful and can save lives. Without clicking any button, you can access Google assistant or access Siri directly.
Ease of Use
The positions of the control buttons on these two devices are completely different, while the usages of buttons are quite the same.
Cardo PackTalk Bold has three buttons, one for media to play your favorite music, an intercom button to communicate with other riders, and a button for answering all the calls. Bold also has a round rotatable wheel that allows you to adjust the volume.
PackTalk Slim has the same buttoning system, one for calls, one for media, and one for the intercom to chat with riders. It does not have a volume adjusting rotatable wheel; to adjust the volume, you have up and down volume buttons on the bottom of this device to give it a sleek look.
Pricing
The prices of intercom devices can be a major problem for many people. The prices of PackTalk Bold and PackTalk Slim devices are very competitive, but they are still low priced than other manufacturers' devices with similar functions. 
The prices of these two devices are similar. PackTalk Bold and PackTalk Slim come in around 270 to 290 dollars. 
With multiple advanced functions at this price, mark makes them a budget-friendly product and superior form other devices.
Sound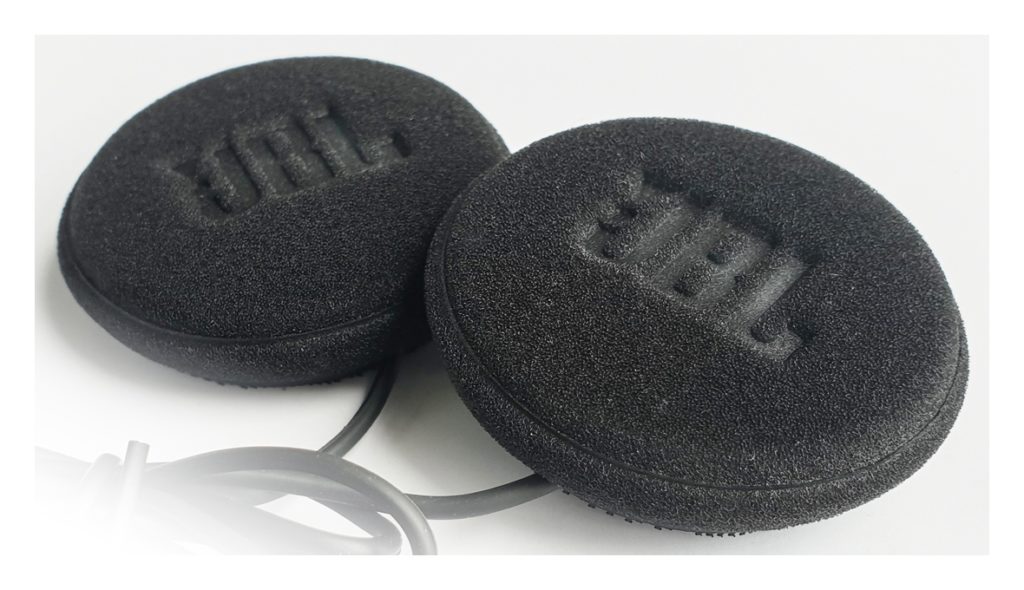 Cardo stands out in providing the best sound quality than any other manufacturers. These devices are equipped with JBL speakers, which provide stunning HD sound quality and reduce all environmental noise.
There is not much of a difference in the sizes of the speakers. Both Bold PackTalk and Slim speakers have a width of about 40mm and a depth of 9mm that can easily fit in any helmet. In comparison, the PackTalk Bold Black version speakers have a width of 45mm.
HQ speakers are the main reason why Sena cannot compete with Cardo in terms of sound quality.
Hardware 
The main differences in the hardware of Cardo PackTalk Bold and PackTalk Slim devices are their size; just like its name, PackTalk Slim is thinner than Bold. In terms of thickness, Slim is 18.5 mm thinner than PackTalk Bold.
Bold is also slightly taller and longer and has a folded antenna for using DMC technology. This is an impressive achievement for Cardo.
Features
The features and functions of PackTalk Bold and PackTalk Slim are the same. One of the best things about these devices is that they provide dynamic mesh communications. The DMC technology makes it easy to communicate with fellow riders without any trouble.
Both of these devices have high-quality advanced features. Compared with other wireless communication systems, this is a major technological advancement. 
App Connectivity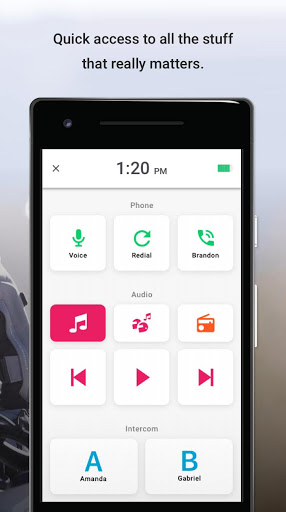 If you prefer, you can use the Cardo Connect app to link up with its interface. The Cardo Connect app allows you to control your device completely remotely.
The application allows you to make calls, communicate with other users and fellow riders, switch music, and enjoy your favorite FM radio channels. You can share your music with your fellow rider as well. This is an upgrade feature that very few intercom devices provide. 
This app makes PackTalk Bold and PackTalk Slim handy to use. The app's availability remains unchanged on both devices.
Battery Backup
The backup batteries on both devices are excellent. You can get about 13 hours of hybrid backup in a single charge and seven days of standby time. The battery back of these devices allows you to charge while using it and driving. It takes about 4 hours to charge fully.
The twist here is that: the battery of PackTalk Slim battery is not linked up with the device. Due to the appearance of PackTalk Slim, the battery needs to be placed in the interior of the helmet using the attached clamp that they give with this device.
With PackTalk Bold, you don't need to be worrying about batteries. It is integrated into the device; you only need to install the intercom into the terminal. Cardo devices come in 2 years of warranty.
This headset is the result of Cardo's collaboration with famous Sound Company JBL. So this headset is more focused on the sound quality to give you an immense listening experience.
You will experience the bass and treble like never before. Its voice navigation feature is so accurate that you can use your voice to pause, play, and skip the track. 
Call a friend just by using the voice command and even setting a destination just by using voice. You can access everything in the menu without touching any buttons.
It has a rating of IP67 which means it's completely dust and water-resistant. The talk time you can get on Cardo pack JBL edition is up to 13 hours. It also has a standby time of a week. It can pair to the device seamlessly and automatically direct the call from the smartphone to the intercom.
As the new Cardo pack, bold JBL edition has a more big and bold look to it. It also allows the DMC meshwork technology to cover more ground. 
The DMC mesh technology of Cardo pack talk can cover an area up to 1.6 kilometers. This is a really big area for having a strong network. It will allow the riders to enter the network more seamlessly.
Cardo PackTalk Slim JBL headset
Like Cardo PackTalk bold, the Cardo PackTalk slim results from Cardo's collaboration with JBL. Having a JBL sound system installed in the headset is a big boost to Sound quality, voice navigation, and seamless connectivity.
Just like Cardo PackTalk bold, you will experience fully crisp sound quality with balanced bass and good treble. You have a feature of voice command so you can go through your tasks hands-free. You can listen to music, change it, pause it, skip it or call a friend without even touching the intercom. 
The new DMC technology is available despite having such a small and sleek size than pack talk bold. DMC technology allows forming a group of up to 15 riders within a specific network. Each one can leave or enter seamlessly. It gives you a 13 hour talk time with seven days of standby time.
As the Cardo pack talk Slim consists of a small body, some compromises are made. For example, the battery is not inside the body but must be placed separately using clips inside the helmet itself. 
No major differences in performance occur due to this arrangement, and the device performs normally. Due to the small body, The DMC mesh technology can cover up to 1.2 kilometers.
Using the phone for attending to any important call while riding a motorcycle can lead to serious injuries due to distraction. To prevent that, Bluetooth headsets come in handy as they reduce your distraction and efforts so you can focus on the road only.
Cardo PackTalk bold will help you stream your music so you don't get bored while riding. You can use your voice for certain commands like playing music, skipping or pausing tracks, or calling someone without using your hands.
Don't worry about the battery if you're going for a long ride. Cardo PackTalk bold and Slim both give a remarkable talk time. They have a battery that can stand by for up to 7 days, so you don't have to charge them every time. Both intercom Cardo devices have a JBL sound system in them, which means you will never have to struggle between volumes to get the perfect sound. Their sound system is adaptive to every environment, loud or silent.
You will hear the sound clearly in every situation. 182 Both devices have DMC technology for grouping with up to 15 riders. It allows you to enter or leave the network seamlessly.