While it's a nice-looking, comfortable, and well-ventilated helmet, its weight and the poor speaker system of the inbuilt comms system more than makeup for it, there are too many faults with this helmet's quality of life for me to endorse it without reservation.
Sena's Impulse Modular Mesh Helmet combines Mesh Bluetooth technology with Harman Kardon quality speakers, all of which are neatly tucked within a superior composite fiberglass shell to reduce the hassles of routing wires microphones, and speakers.
The Impulse's perfectly integrated speakers bring baked-in helmet audio to a new degree of precision and clarity. At the same time, the newly developed microphone's unparalleled outbound quality ensures the group hears you. The Impulse's Groups Mesh Intercom can accommodate approximately 24 bikers in a private group, and the Inter Open Mesh Intercom mode can accommodate an almost infinite number of riders! Do you have to ride with someone who doesn't have a mesh system? The Adrenaline has you covered with such a 4-way Bluetooth Wireless intercom feature. 
The Impulse Modular Helmet also includes:
A foldable sun visor for on-the-go shade.

A four-vent layout for all our chillers.

Incorporate tail light for optimal exposure to those around you.
The Impulse is an excellent choice for riders who want all a helmet can offer in one convenient package.
Sena Impulse Smart Helmet Review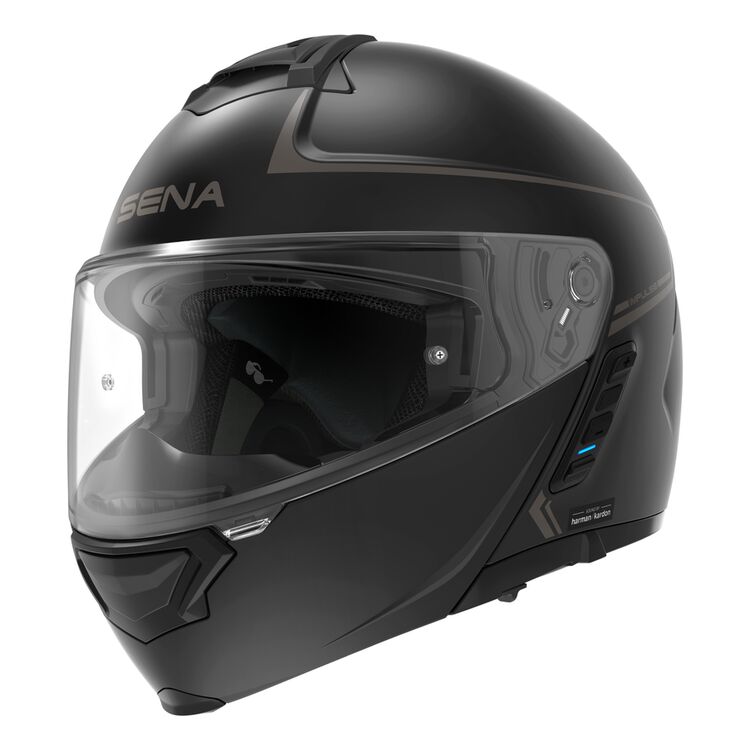 Audio multitasking allows you to listen to music while also communicating over Bluetooth.

Aerodynamically engineered for a smooth ride and DOT approved for safety.

On Android, iOS, and Windows, the Sena Utility App makes it simple to customize.

The battery life is long.
It's not cheap.

There are not many color choices.
Things to consider before buying
Cost
It costs $699. Which is fair for the type of features it offers. The quality of the helmet is also significantly improved from Sena's previous smart helmet "Sena Momentum".
Features
Modular helmet with Mesh and Bluetooth intercom

Harman Kardon Superior Speakers & Microphone

The Omni Open Mesh Intercom can accommodate nearly any number of riders.

A private group of up to 24 cyclists can use Group Mesh Intercom.

Mesh Intercom Range of 1.2 Miles (can extend 5 mi with minimum six riders)

Bluetooth Intercom with 4-way communication (1.2-mile range)

Talk time is 18 hours (varies upon intercom mode and taillight usage)

Sunglasses with a Retractable Visor

Access to digital assistants via voice commands ("Hey Google"/"Hey Siri")

Voice Commands in Eight Different Languages

Optional Portable Pogo Charging Port

A shield that can be pin locked (Pinlock sold separately)

Meets and exceeds DOT requirements

Fit: Intermediate Oval
Usability
Sena communication devices keep us connected and in control whether riding motorcycles, cycling, being outside, working in the factory, and more. There is a Sena for each of us, no matter who we are.
Modular helmets are ideal for motorcyclists who frequently need to converse with others when stopped. Couriers, delivery persons, and motorcycle riding instructors are all familiar with this. Riders who wear glasses may find that modular helmets are comfier with their glasses.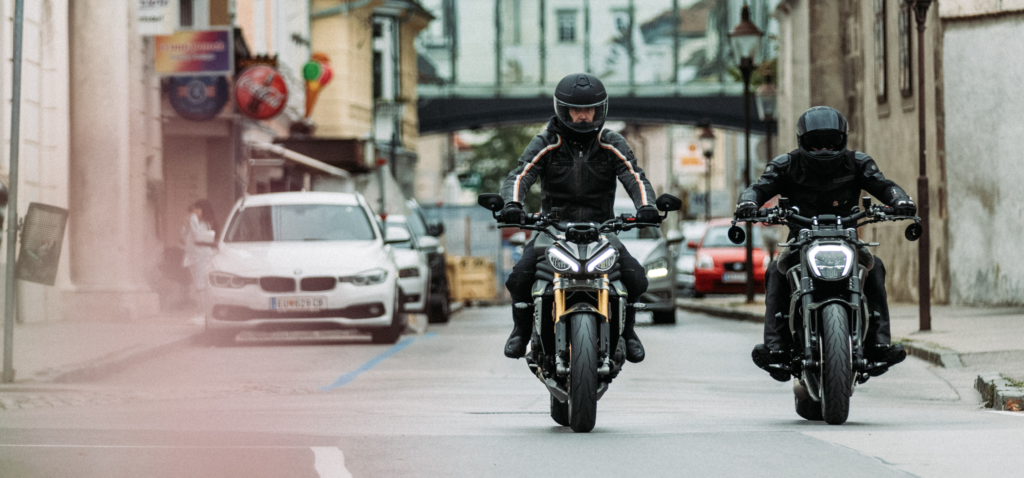 Features and Benefits
Design
Weight: –
– DOT: 1,760 g (62 oz) DOT: 50 g (2 oz) 
– DOT: 50 g (2 oz) DOT: 50 (M size)
– ECE: 1.720 g (60 oz) minus 50 g (2 oz) (M size)
– Temperature range: -10°C to 55°C (14°F to 131°F)
– Rechargeable temperature: 0 to 45 degrees Celsius (32 to 113 degrees Fahrenheit).
Helmet Sizes & Specifications
Sizes: S / M / L / XL / XXL 
Color – Black 
Age – Adult
Closure System – Micrometric adjustable buckle
Modes
Bluetooth: – Headset Profile (Bluetooth 5.0) (HSP)
– Advanced Audio Distribution Profile (A2DP) – Audio Video Remote Control Profile – Hands-Free Profile (HFP) (AVRCP)
Pinlock ready – Pinlock 120 max vision – Composite fibreglass shell – Quick-release system – Scratch-resistant – UV resistant – Pinlock ready
– Cheek Pads and Comfort/Center Liner:
– Breathable – Removable and washable
– Liner that dries quickly
– Breath deflector – Chin curtain – Laser-cut foam
System of ventilation:
– Top vent
– Vent for the chin
– Port for exhaust
Supports up to – 4 riders via Bluetooth intercom
– Open Mesh Intercom: practically unlimited possibilities
– Intercom Group Mesh: 24 riders
– Channels are supported:
– 9-channel open mesh intercom
AUDIO: – Advanced Noise ControlTM – Built-in SBC Codec – Volume control with a wide range
– Maximum sample rate: 48 kHz (DAC)
– Audio BY Harman Kardon Superior Speakers & Microphone
– FM radio with RDS AF built-in (Radio Data System Alternate Frequencies)
– Radio region: all across the world
– 76 108 MHz radiofrequency specs – 10 predefined channel memories with automated scan function
Maintenance
– Metal quick release 
– Metal quick release buckle
– Reinforced chin strap 
– Reflective safety patch 
– Multi-density EPS 
– Neckroll Security 
Battery:
Talk Time:
 – Bluetooth Intercom: 18 hours 
– Mesh Intercom: 11 hours
 – Recharge Time: 2.5 hours
– Lithium polymer battery (1,300 mAh) built-in
Wifi
– IEEE 802.11 b/g/n
– Working distance: less than 10 meters
Other Features
Audio quality that has been expertly crafted: – With SOUND BY Harman Kardon, the Sena Impulse provides an unrivaled audio experience. Its loudspeakers and microphone were designed in collaboration with Harman Kardon's audio experts to produce world-class sound inside this motorbike helmet. Sena designed the Impulse's interior to provide comfortable acoustical damping for the SOUND BY Harman Kardon speakers. The Impulse delivers an UNPRECEDENTED motorcycling audio experience thanks to nicely positioned premium speakers and internal acoustic design, as well as an all-new microphone. The speakers deliver clear audio to riders' ears, while the microphone, which features a newly built sensor, delivers reliable voice transmission while riding.

Communication via Mesh and Bluetooth: – Impulse supports both Wire and Wireless Intercom platforms, allowing riders to communicate with one another using any Sena headset. With substantial improvements to Sena's Mesh technology, Mesh Intercom provides robust, reliable connections and customizable intercom message routing. Mesh's Multi-Channel Open Mesh IntercomTM and Group Mesh IntercomTM settings provide an unrivaled degree of intercom audio quality.

The first Mesh IntercomTM channel system is featured in the Multi-Channel Free Mesh Intercom (Open Mesh). When running in Open Mesh mode, Mesh works similarly to standard portable or CB radios, allowing the rider to change between nine channels. Open Mesh allows you to join the Mesh communication system with a single button press. It also accommodates an almost infinite number of users across a distance of up to 5 miles / 8 kilometers (minimum of 6 riders at 1 mi / 1.6 km intervals).

Impulse has a Group Mesh Intercom option for secret group communication. Group Mesh has the same range as Public Mesh and enables a unique, private group of 24 people. Only invited individuals are invited to enter the Gang Mesh chat.

The traditional 4 Bluetooth Intercom mode for linking the Rapid to specific other Sena Bluetooth-enabled devices within a 1.2-mile range is still available. Users can also 'bridge' into a Mesh 2.0 intercom chat by pairing with a Sena Bluetooth Headset user.

Industry-leading features in a modular helmet design:

Sena's 1st incorporated motorbike helmet LED headlights for increased rider visibility are included in the Impulse. The Impulse was designed with a modular helmet design with a lightweight composite fiberglass shell to meet DOT and ECE standards. The four-way ventilation system on the helmet allows air to circulate through vents on the top, chin, and two exhaust vents. The helmet has a sun visor that may be retracted to shield riders from glare.

With a Pinlock® anti-fog lens included in the box, Impulse is Pinlock® ready. Throughout the ride, the tiny ratchet chin strap holds the helmet pleasantly and securely in place.

Riders may communicate directly to their Instinct helmet while holding their hands properly on the handlebars, concentrating on the road: – Voice Recognition allows bikers to talk directly to their Rapid helmets while putting their hands securely on the handlebars. Use the Impulse's functions, such as answering calls or beginning a Group Mesh session, to your advantage. Voice commands are supported by Impulse in eight languages: German, French, English, Chinese, Spanish, Russian, Japanese, and Italian.

With a simple voice command, the Impulse can be connected to Google Assistant and Apple's Siri, allowing you to use your smartphone's functions like Gps tracking, music playback, voice dialing, and more. "Hey, Siri" or "Hey Google" is all you have to do! Are you running out of gas? "Hey Google, show me how to get to the closest gas station."

Automatic firmware updates and novel magnetic pogo charging: The Impulse comes with a brand-new charging technology that uses a magnetic pogo connector. The inductive charging port, positioned in the back of the helmets, is fully sealed and provides better weather protection when riding. When utilizing Mesh IntercomTM, Impulse can talk for up to 10 hours, and when using Bluetooth intercom, it can talk for up to 18 hours. The Impulse has a constructed wifi circuit that updates the firmware automatically while charging. The Sena product manager will no longer be required to upgrade the device's software.

Use the Sena's app to take command: The new Sena Motorbike App allows customers to customize the Impulse's device settings visually. Download the software to configure a range of settings and functions on Adrenaline, including remotely managing Open Mesh channel settings or creating a private Group Mesh group. The Sena Motorcycles App will also allow Impulse owners to adjust the LED taillight. Download the Sena Motorcycles App from the App Store or Google Play Store.
Conclusion
It is a significant buying after reading all about Sena Impulse Bluetooth Modular Mesh Helmet. The Sena Impulse Bluetooth Modular Mesh Helmet is a significant advance over the original version, which had certain flaws while being a terrific initial effort and Sena's first modular, as seen with other Sena Smart Helmets.