It's a fact that a phone has its usage while riding on a motorcycle, such as GPS, navigation, remote controller, etc., so using a phone mount on your motorcycle is the reasonable thing to do. 
It's true; we can't think of a single minute without our phones in this current era. So it's natural to feel a certain level of attachment to your phone even while you're riding a bike. 
It's not that we are addicted or anything; it's just this generation, where you need your phone to get things done quickly. But using a mobile while riding a motorcycle is not a good idea. Because as you know on the road, you can't predict everything. 
Keeping it in mind, we're about to go through every aspect of using a phone mount on your motorcycle.
Is It Safe To Mount Your Phone On A Motorcycle?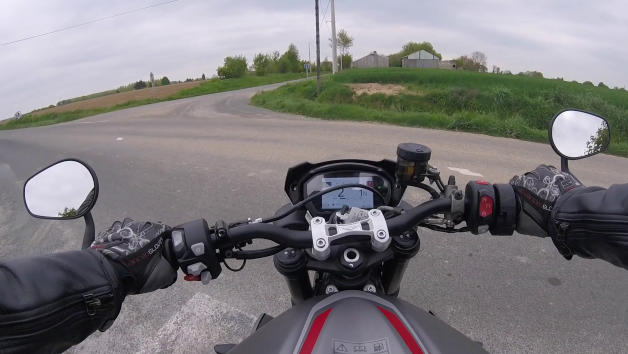 Indeed you can use your mobile on a bike by adding a phone mount. Is it safe? Well, to simply put, it is if you use a good phone mount. 
For example, a GoPro mount for motorcycle is a great way to keep your phone safe while riding a bike.
Although, if you don't mount the phone holder properly, it can't hold the phone, resulting in fall damage to your phone. So getting a good phone mount isn't enough. You need to know the proper methods too. No worries, we'll cover it in the following segment.
Be patient, and get ready for a great ride.     
Best Place To Install A Phone Mount In A Motorcycle
The point of using a phone mount on your bike is to help you use the mobile with ease. It shouldn't get in the way of your bike riding. So, you should place the mounting device in a place where it won't bother your bike ride.
In any case, you should try out the phone mount and test the mount's arm length to see how it feels because everyone has their own preferences. 
Does the right-fitting phone mount matter?
After discussing the best place to put the phone mounting device on your motorcycle, another question arises, does it matter to fit the phone mount in the right way?
Well, to be blunt, most definitely yes. Considering you can't just keep focusing on your phone mount while riding. It's not just dangerous, foolish as well. 
So while choosing a mount for your phone, keep the mobile's size and shape in mind, which will hold your phone at high speed. 
Many riders think they need a high-priced phone mount to keep their mobile safe while riding.
But it's not true. The mount's holding grip is all that matters when it comes to keeping your phone safe. 
Don't get us wrong. We know if you want a good product, we know you have to spend a few extra coins. But getting a product that doesn't fit well would be a waste.    
Considerable Things While Using A Phone On A Bike
By now, you have a general knowledge of the importance of using a phone on your motorcycle. For that, you can try using a ram mount as your mobile holder, and it's about 40 to 45 dollars. And it's the best at this price, and it's quite reliable.
But before you start mounting it on your bike, you should consider a few things. What is the purpose of using the phone holder? Is it dialing/receiving calls, GPS and navigations, music, or a drone controlling remote? Let's go through those considerable things together.
Dialing/Receiving Purpose
Many of the riders use their phone mount for call dial and receive. It helps to keep a steady pace without losing focus.  
If you wish to use it for such a purpose, you should consider using a Bluetooth headset for receiving the calls so that you don't have to stop your bike every time you need to take a call.
GPS and Navigation
A phone's GPS as a navigation guide is the best-discovered thing in the current era. It's the best tool for an adventurer, with they can go anywhere without the fear of losing their way back. 
Many riders use the phone holder for GPS and navigation purposes. If you are one of them, you might want to consider keeping the phone holder horizontally. It will help you visualize the map better.
Music
Music and bike rides are intertwined with each other. As a bike rider, you know how good it feels to ride and listen to music simultaneously. We like to think music can make any rider more enjoyable.
If you wish to use your phone mount to control your phone's music player, you first need to look into small speakers or weird/wireless headphones.
Drone Controlling
If you wish to use the phone mount to control a sky-drone, then you need to keep touching the phone to control the drone with ease. So consider keeping your mobile holder as close as possible. It will help you navigate the drone with efficiency.     
Note: remember to mount your mobile on the motorcycle in a comfortable position. There is no need to follow anyone with positioning. Keeping it in your own preference will help put it to better use. 
Also read:  5 Best GoPros for Motorcycles
Last Words
All in all, we can say nothing is more precious than your life, though using a mobile while riding a motorcycle might be necessary. 
You should consider maintaining the proper safety measures. Otherwise, you might cause an accident and fall towards your doom.
As promised, we've tried to provide you with all the necessary information you'll need to mount your phone on your bike.
We also discussed a few things you should consider checking out while mounting a mobile onto your bike so that you can put the phone mount to better use.
You should also consider putting a voice recognizer. It will help you navigate the phone better while you're riding on the road.