The world of motorcycles is evolving with every coming day. As technology is advancing, the design and features of motorcycles are evolving as well. Many believe that the process of updating motorcycles is a waste, but the bikes lover are totally against this narrative.  A 3 wheeler motorcycle is similar to a small and compact car. Many claim that it doesn't belong to the category of motorcycle.
In some aspects, the three-wheeled motorcycle is no doubt different from a traditional two-wheeled motorcycle. However, some of the features like increased safety and space make it even more desirable. So let's have a look at some of the best three-wheeler motorcycles. 
1. Piaggio Luxurious MP3 500
If you are a bike lover and trying to keep up with modern trends of the bike, you need to look into this bike. This bike has an elegant design and is best for daily purpose usage. Piaggio has once again presented a bike that is fuel-efficient and is highly reliable to use. Most of the users have provided excellent reviews of this motorcycle. 
It has built-in electronic aid in case of emergency, plus it has traction control. So if you are high speeding or your bike slips, the traction control would automatically turn the motorcycle on the right track. 
You might have faced issues related to the brakes of the bikes. Most of the accidents occur because of the lack of proper brakes that could tackle the high speed. However, in this bike, ABS brakes are provided to curb this problem for good. 
2. 3 Wheeler Harley Davidson
You can never ignore the world-famous brand when you are talking about the list of best motorcycles. However, the Harley Davidson never ceases to impress us more. It has now been provided with a three-wheeled motorcycle that is as classical as two-wheelers.
This bike is dynamic, ergonomic, and classical in its design and features. The brand has made it even more attractive and comfortable than ever. This bike is easy to ride and, most of all, easy to balance. The weight of Harley Davidson bikes is usually higher, so with three wheels its gets easier to maintain balance on the road.
Moreover, the cool back and company-fitted aesthetics make this bike even more desirable. It has a higher engine and exclusive brakes to provide you with safety. I would say that this one remains top of the line. 
3. Spyder F3-T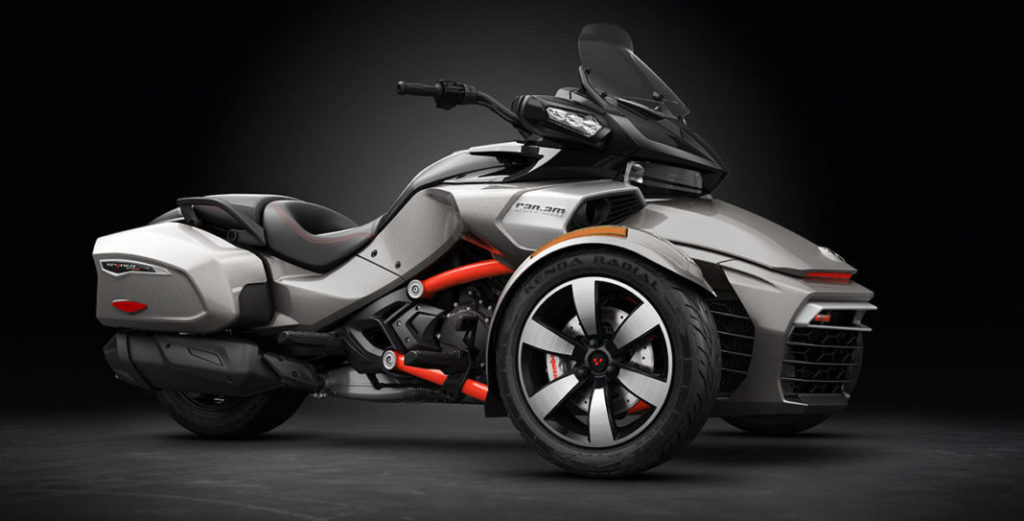 Spyder F3-T looks like a car from the front. It has a very appealing look, and you are going to love this efficient motorcycle. The major problem of a three-wheeled motorcycle is to control it from going off-road. For that, the company has provided traction control in case you go off-road a bit. The sharp turns are usually a hurdle, and that is where traction control comes into play.
Similarly, it has a comfortable design, and you can sit with one of your friends while going on a tour. Moreover, it has a six gear automatic transmission system making it one of the most powerful bikes nowadays.
There is a system of anti-lock brakes for better brakes along with included reverse gear. You can go almost anywhere with such a powerful bike. In addition, it has the exclusive capacity to place items for a long tour so you can for long trips with your friends.
No need to worry about getting bored as the built-in sound system would be your partner on the road. The air suspension system would make your travel comfortable. 
4. Ural Baikal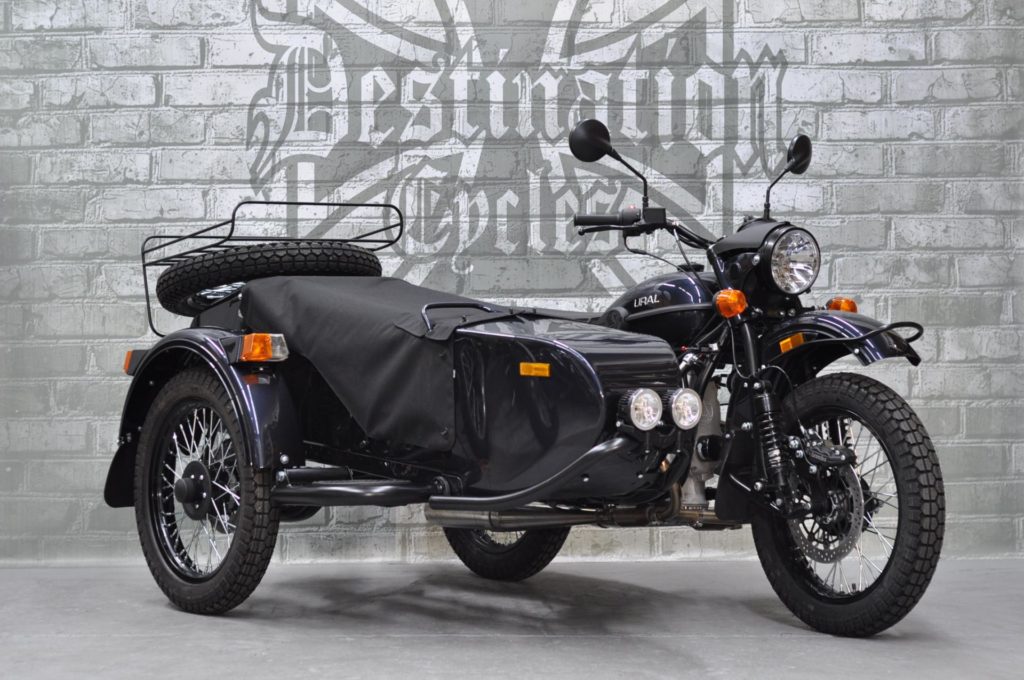 This bike has the design of traditional bikes that were used in the last century. However, this model is revived with completely new and attractive looks to revamp the old style of bikes. It is named on the Russian mountain range and a great lake.
It is based on the start of urban life and how people like this kind of model. This bike has a highly powerful engine, and you can go to a mountainous area over this bike. You can sit with your friend side by side and enjoy the trip. 
Moreover, these bikes are a limited edition and are manufactured in limited numbers. So you cannot get this bike at all times; rather, there is a specific time when you need to get it. The wind protection system would help you in any area, and in winters, you don't need to worry about the cold. 
5. Qooder QV3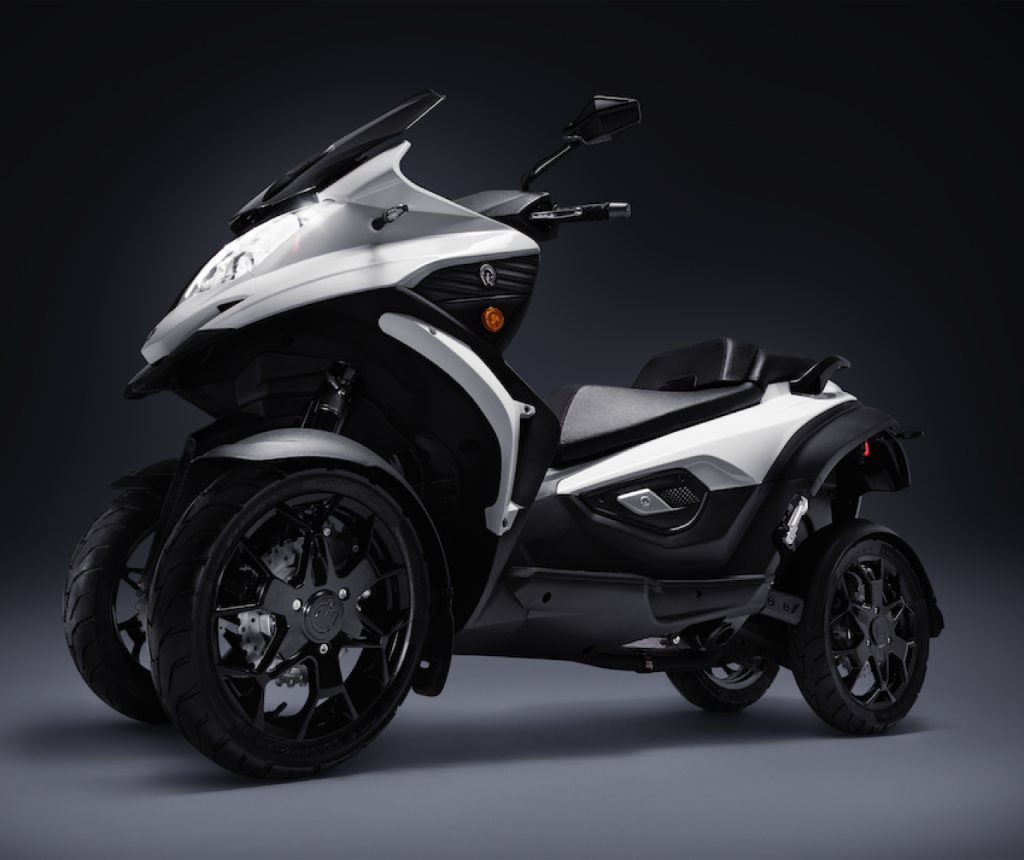 Many people still believe that three-wheelers are not as cool as two-wheelers. However, the benefits of a three-wheeler might be better than the other one. The bike you buy depends upon its usage, and this bike is most suited for off-roading.
If it is the engine you are looking for, you would be amazed to know that this bike has a 300 cc engine, and you can also change it to 350 ccs if you desire so. It is best to use off-road where you can figure out its reliability and balance features.
It is not necessarily based on off-roading; rather, you can use it for daily routine tasks. In addition, it is extremely light and easy to handle. So within a city or traffic, you won't need to worry about the excessive bike weight. 
The additional TFT display allows you to have a check of fuel and the gears. Thus, it creates ease for the driver during driving. 
6. Can-Am Ryker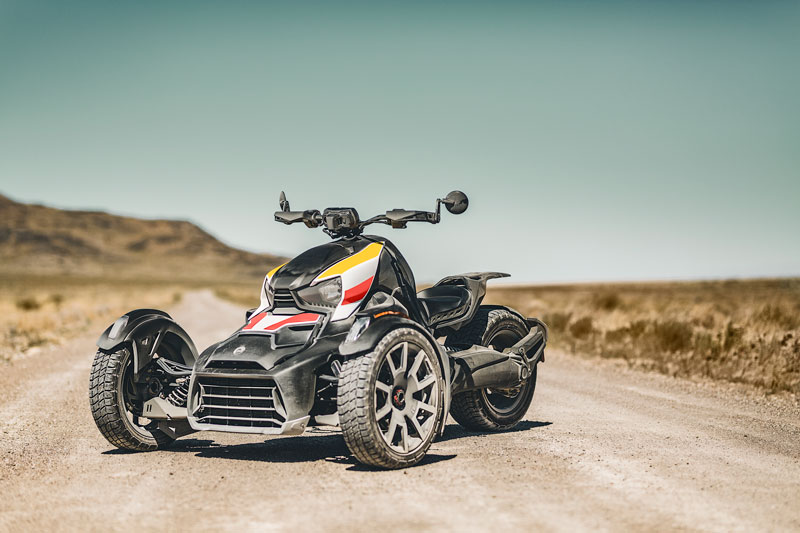 Among the breeds of scooters, there are some which belong to the sports class. Well, this is the one. If you are a lover of sports shape or low heightened bikes, then this is the one you have been looking for. It is highly stylish and attractive in design.
Moreover, the bike gives you a feel of formula cars and is mostly liked by young kids who are new to driving. It has a high-speed engine and a power transmission system for using it anywhere you like. It looks dangerous, but the safety features are embedded in its design.
Its engine is 600 cc which is more than most bikes. The traction control allows you to keep a balance of the bike even at high speed. It has a rear-drive system that allows you to reverse the bike as you want to. There is no such thing that this bike cannot do. 
7. Yamaha Tricity 125
If you are looking for a bike that must be used for in-city purposes, we believe that this one is most suited to meet your cause. It has a relatively smaller engine of 125cc and has a cute design for your daily purpose usage.
The maintenance of this motorcycle is extremely cheap as it only requires tuning and a change of oil. The body parts are easily available and cheap. This bike has good balance and is extremely light in weight to even use this bike. 
If you are new to bikes, then this is the one you should start with. It can fulfill all your needs and is most safe for your family as well. 
8. Polaris Slingshot S
One of the most expensive three-wheelers in the market nowadays. Have you ever thought of buying a formula car? Why don't you try this bike? It has the same shape as that of sports cars and is two-seat side by side for sitting.
Moreover, it is high close to the ground, making it one of the most balanced motorcycles in the market. It is hybrid, so you don't need to worry about the fuel efficiency of the bike. The ABS assistance is there to save you from any accident.
The electronic stability control and traction control can prevent off-balance in case of emergency. Two people can experience the thrill of this machine together with its power steering system. So it is more of a car than a bike. 
FAQs
Is a trike safer than a motorcycle?
The visibility in a trike is better as compared to a motorcycle. A 3 wheel is better as it has better control and additional features like traction control to prevent any danger. Overall we can say that trike is better than a two-wheeler bike.
Why do bikers hate trikes?
Trikes are better in shape and features when it comes to bikes. However, the bike doesn't like it because of the difference in the driving of both. The trikes are different to handle and use, while the bikes are different. The three wheels completely change the drive making the bikers hate trikes. 
Can you drive a three-wheel motorcycle on a car License?
You needed a license for a car in the past, but nowadays, you need the license of a bike to drive a trike. The trikes belong to the class of motorcycles, so the license used for bikes would do the same task as well. 
Final Verdict
Generally speaking, the class of three-wheeler motorcycles is way better than two-wheeler ones. We presented you with some of the best three-wheeler motorcycles. They include better stability and features like an ABS braking system and much more.
We hope this guide would help you to get a suitable three-wheeler motorcycle for you. Then, you can start with your budget and then features. Till then, thank you.