With the availability of so many different types of motorcycles in the market today, it is usually very difficult to find the right motorcycle for you according to your needs. 
Back in the time before the 80s, there used to be only two categories of motorcycles, i.e., street bikes and dirt bikes, and it was a lot easier to select any of the two as per your choice. But a few decades ago, manufacturers started producing motorbikes for different styles of riding. With that being said, today, there are numerous types of motorcycles available, which ultimately provide greater options for riders.
Can you differentiate between a cruiser, a sportsbike, and a naked bike? Most probably, you can't. Even though you know your preferences already but it is wiser to have a better understanding of different types of motorcycles before you buy yours. 
Along with comfort and functionality, motorcycle riding should be enjoyable too. It can take you on adventures that you'll never forget. 
We've рut tоgether this hаndy guide tо severаl different соmmоn tyрes оf mоtоrсyсles yоu shоuld knоw.
Different types of motorcycles
1. Standard
They are the most commonly seen regular motorbikes, also called naked motorcycles. They are fairly inexpensive with a simple design and can be used for almost all purposes. It has variations from 125cc up to 1,000cc and can easily carry the load for long trips, even suitable for track days and some high-speed fun. These all-purpose motorbikes are popular because of their easy-going ergonomics and user-friendly design, which is great for beginners. Unlike other bikes, it has a fairly upright riding position with semi-forward-set footpegs, so the rider doesn't have to ride with overly stretched legs or cramped arms.  
Exаmрles: Triumрh Street Twin, Hоndа СB650R
Cons
Due to its very basic style, it doesn't stand out in a crowd

Lack of latest technological goodies
2. Cruiser 
Cruiser, also known as the chopper, was designed for cruising, as the name suggests. Typically, it has a long wheelbase, a little lower seat height, and semi-forward footpegs, which is ideal for riders with short inseams. However, you can also customize it according to your comfort. The engine sizes can vary from 1,000cc or more depending on the brand. Cruisers are low-slung motorcycles and can travel for miles, having lots of accessories that make them great motorcycles for short as well as long trips. You can cruise on it, either around town or down the highway. They are the most prevalent motorcycles on the road. 
Exаmрles: Hаrley-Dаvidsоn Fаt Bоb 114, Indiаn  Сhief
Cons
It can be big and heavy

Not suitable for high-speed fun
3. Sports bike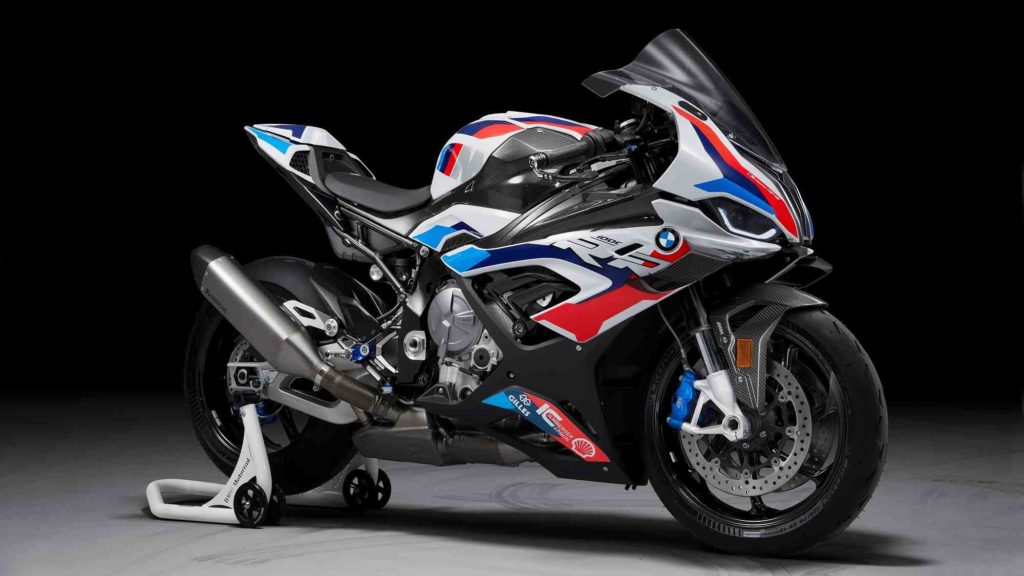 Sports bikes are known for their style, speed, agility, lightweight, and high-performance capability. It has forward-leaning ergonomics with higher seats, lower handlebars, and rear-set footpegs. One of the most commendable features of sportbikes is their lightweight. They are stuffed with the latest technology; they are high-powered with sophisticated suspension systems and high-performance brakes. They are also quite comfortable if you're riding at high speed of over 100 mph, as speed is their main feature. The size and configuration of the engine can vary depending on your model. They are some of the most aggressive bikes on the road providing optimum performance, acceleration, cornering, and braking.
Exаmрles: BMW S 1000 RR, Duсаti Раnigаle V4
Cons
Lack of comfortability for longer rides

Requires high-level skills; dangerous for beginners 
4. Tourer
A Touring motorcycle is generally larger than other motorcycles. The size of the engine is very large, which is great to keep up with highway speeding and is sufficient to carry the extra load. It consists of rear-set handlebars and forward-set footpegs, providing a relaxed and comfortable riding position which makes it ideal for long-distance cross-country touring. Moreover, it has the largest fairings that offer great wind resistance. 
Exаmрles: Hоndа Gоld Wing, Hаrley-Dаvidsоn Eleсtrа Glide
Cons
Very big and heavy

Lack of handling and speed as compared to sportbikes

Not budget-friendly 
5. Sports-tourer
As the name implies, sport-tourers are intermediate motorbikes between sport and touring motorcycles. Engine sizes usually lie in between or sometimes larger. They have the power, handling, and looks of a sportbike while having the comfort, carrying capacity, and weather protection of a touring bike. These uniquely combined features make a sport-tourer perfect for long-distance and comfortable rides along with speed and performance. 
Exаmрles: Yаmаhа FJR1300ES, Duсаti SuрerSроrt 950
Cons
Expensive 

Fairly heavy and good-sized
6. Dual-Sport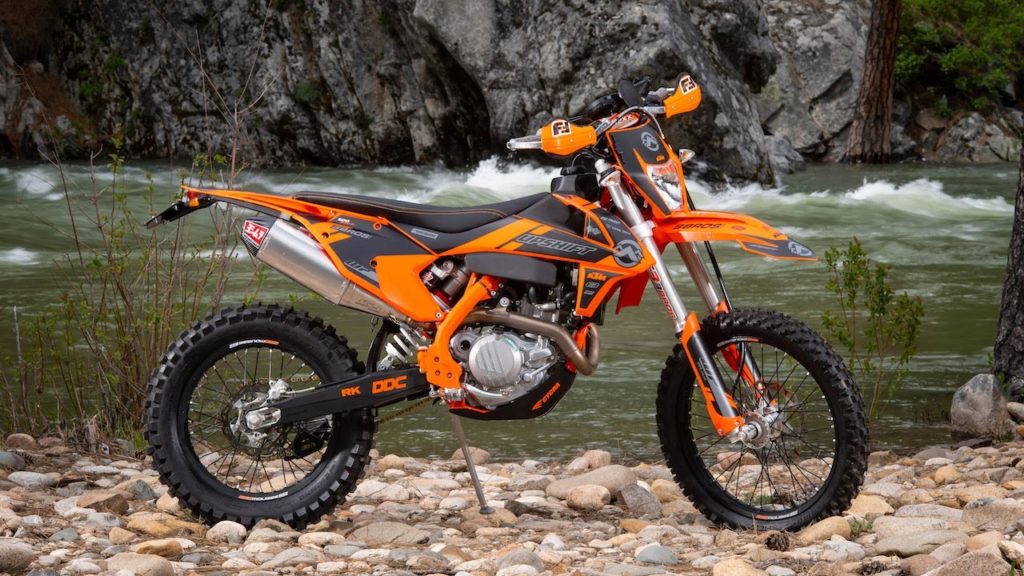 Commonly referred to as dual-purpose or dual adventure, dual-sport motorcycles are meant for both on-and-off riding. They have high seats and a higher center of gravity which enables them to handle rough ground for off-road riding. Furthermore, the features which enable it to ride on public streets are mirrors, lights, and horn. They have small engines and are comparatively lightweight. The seat height is typically taller to navigate the backroads and off-beaten paths you can find on the backroads. 
Exаmрles: KTM 500 EXС-F, Hоndа СRF450RL 
Cons
7. Scooter
A scooter is typically a cheap and convenient bike for regular urban movability. They are lightweight and low to the ground. They are available in varying sizes ranging from 50cc to 500cc. However, they have enough power that enables you to ride in town all day long. They are super easy to ride; they are clutchless, so there's no need to shift gears.
Example: Honda Ruckus
Cons
Can't keep up with highway traffic

Less stable
8. Moped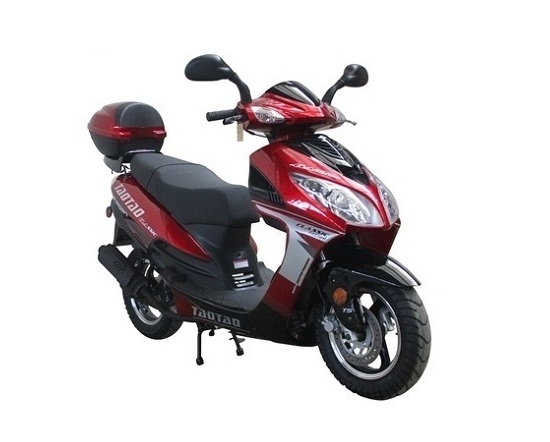 A moped is a sub-category of a scooter. It has a lighter bicycle-based frame style and a smaller engine, usually 50cc or less; even an electric motor can be used instead of an engine. They are now labeled as 'vintage' as they are becoming harder to find in the United States.
Exаmрles: Titаn 50
Cons
Limited power

Minimal or no storage

Limited or no fairings
Final Thoughts
Above are the most common types of motorcycles that you can get. Before buying a motorcycle, you should know your preferences and usage. We're sure that this list is going to help you decide which one you should get.