Motorcycle riding is one of the most famous and attractive activities for all the young riders out there. However, it seems a dangerous ride and still manages to attract the interest of the majority of the youth. It is not only common among men but grabs the attention of most women as well. 
Meanwhile, if you are looking for something more fun and entertaining, such as an ergonomic motorcycle, then here`s your chance to get yourself such an adventurous motorcycle. If you are a newbie, then you might be unacquainted with some important factors to look for before purchasing a new motorcycle. For such a matter, we have gathered some of the best beginner motorcycles for you.
Moreover, your favorite motorcycle will serve you well to gain the freedom to go wherever you want. We crave such feelings and long for such adventures. Riding a motorcycle helps you explore many things out. Along with that, you can also hang out with your peers. Therefore, if you are looking for a sturdily designed motorcycle, this guide will help you along the process. So, without further ado, let`s get started. 
Features in a Motorcycle for a Beginner
While purchasing a new motorcycle price range is the first thing that comes to one's mind. However, price is not the only important thing that a beginner should look for. There are many aspects to consider when purchasing a motorcycle. However, some basic characteristics to look for in a motorcycle make it the best motorcycle option for a beginner. 
For someone, who might be a moto vlogger and a motorcycle enthusiast, the ability to get fully immersed into the experience of riding needs lots and lots of training. Besides, feeling the fresh breeze and temperature shift whenever you traverse the tough mountain terrain will make your day a dream come true. 
Anti-lock Braking System (ABS)
Most motorcycles have a conventional braking system that does not rely on a computer to prevent the brakes from padlocking when applied too forcefully. Some vehicles come with anti-lock brakes as standard equipment, but most will require you to buy them as an add-on option. ABS is significant because it prevents the tires and brakes from locking up and skidding if the brakes are aggressively applied. So as a beginner, look for a bike with such a braking system.
Less than 600cc Engine Size
If you are a new rider, then a 600cc engine is a good place to start. However, a larger rider may find a 600cc motorcycle too small to be comfortable, while a smaller rider may find a 600cc motorcycle too big. Since a 600cc cruiser might having almost half the horsepower of a 600cc sportsbike, so it'll be up to the rider to figure out where they feel most at ease with the motorcycle they want.
Height of the Handlebar
Handlebar height, like seat height, impacts rider posture. If the handlebar is not in a good position, it will make you uncomfortable while reaching it. If you are a newbie riding a motorcycle, an uncomfortable riding experience will not motivate or excite you to keep on riding. The bad posture affects fatigue and comfort while riding. When seated on the motorcycle, you must be able to reach the hand controls easily. It would be best if you didn't have to reach far to access the controls, nor should you have to lean far to reach them.
Height of the Seat
As a beginner rider, one thing to keep in mind is the seat height and how it affects your leg length. When you need to stop and put one or both feet down, the seat height must be adjusted to accommodate the length of your legs. 
As a beginner, you can also get tired more often, so you should look for options that give your legs a comfortable ride and can help to relax. For example, a shorter motorcycle with a larger inseam may seem uncomfortable because it would become too easy to touch the ground. 
But a shorter inseam will force you to lean the motorcycle over only to place your foot down, or you may have to stand on your tiptoes to keep the motorcycle upright and stable if the seat height is too high. 
Windscreen/Fairing
If your motorcycle has a windscreen or fairing on the front, you can tuck behind it to remain out of the wind and weather. Such a screen can be beneficial for all the new riders who have almost no experience tackling strong winds on bikes and staying focused on the road in such weather conditions. However, on a longer ride, having to lean forward to battle against the power of the wind not only tires you out but can also become a reason for accidents.
A faster speed equals increased wind force. A highway ride without a windscreen may induce more weariness than a ride with a windscreen. A windscreen may help to keep small objects and pests out as you ride. Overall, biking with it will keep you cleaner than riding without it.
Best Beginner motorcycles 
1. Honda Monkey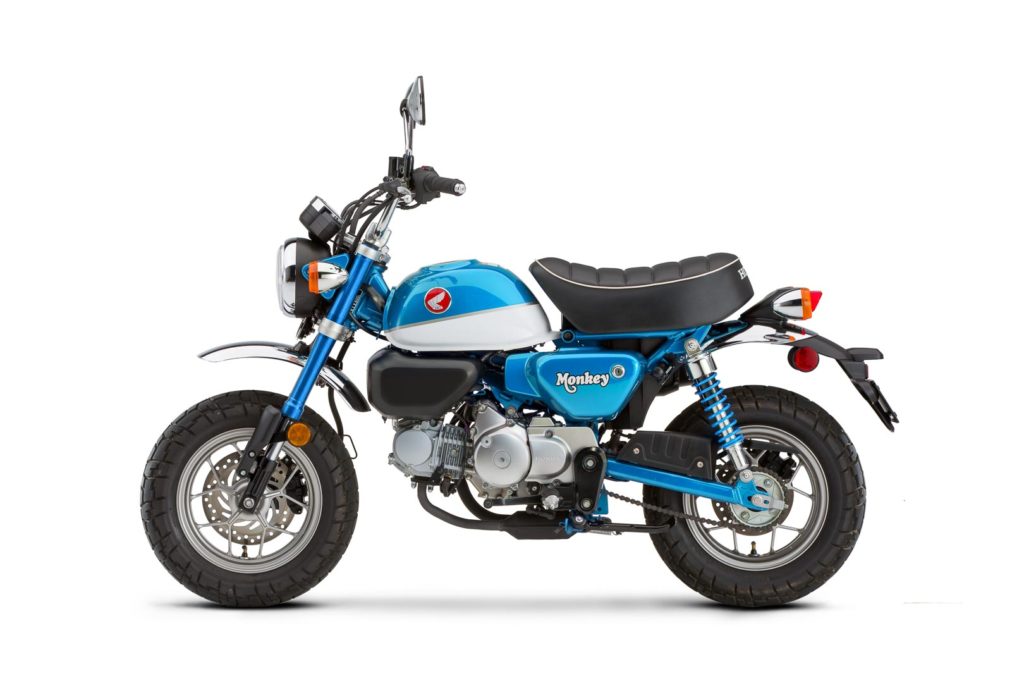 In the 1960s, the Honda Monkey was in fashion in Asia, and it has maintained a huge following that has grown over the previous 50 years. The US market will finally get its version, which will be offered in two trim levels: a base trim level in red or yellow and an improved trim level with ABS brakes.
This 125cc bike is a mini, meaning it has a low seat height and may be too small for certain heavier riders. However, it's a weekend adventure ride for motorcyclists who want to see both on-road and off-road sites. So invest in this amazing bike as a newbie in the bikers world.
2. Harley Davidson Street 500
The Harley-Davidson bike is a great starting point if you're new to American motorcycles. With a seat height of 25 inches, Street 500 is a low-slung motorcycle. As a result, most beginners can comfortably handle it after they have completed their first safety training.
The daily commute and weekend sightseeing are both possible with the Street 500. It may be a great long-distance touring motorcycle. It comes with accessories like a wide front fairing and saddlebags for extra storage. It also comes with an anti-lock brake preference, which we suggest purchasing in conjunction with the security system.
3. Harley Davidson Superlow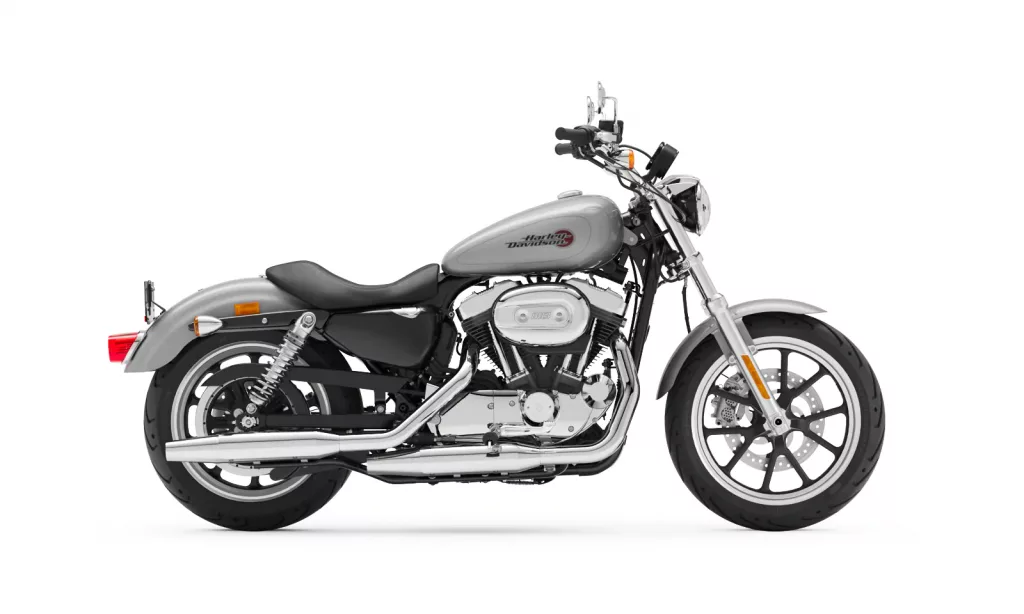 The Harley-Davidson Superlow is a low-slung cruiser motorcycle. The H-D model line-up offers a full complement of accessories for the Superlow. The power is more than enough for a long drive on the highway or a fast trip to the store. You can ride for a few hundred miles a day without straining your muscles because of the simple ergonomics.
It has a low 25.5″ seat height. This height makes it suitable for most riders and allows them to enjoy an entire day riding with comfort. In addition, riders can readjust the footpegs and seats. This adjustment makes it a good choice for those who are just starting to ride bikes. 
4. Honda Grom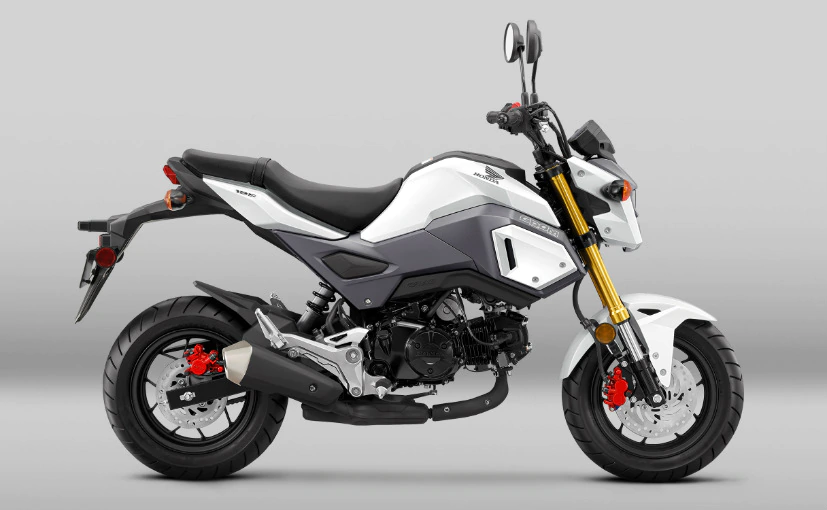 The Honda Grom may appear to be a small motorcycle, but it boasts more sporting features than you might think. The suspension and seat height are similar to those of a sports bike, and the price makes it an ideal first motorcycle. However, the Grom lacks the muscle to accomplish much other than a cruise on city streets. Instead, it reaches you to the destination in style due to its gleaming green, blue, red, or orange finish.
5. Kawasaki Z125 Pro SE
Top in our list and the best Kawasaki Z125 Pro SE I is an upgraded model in Kawasaki's New Rider Endorsed portfolio. The Z125 is not only a fantastic weekend rider but also is appropriate for daily commuter motorcycles. It is light to handle, and the 125cc engine isn't too powerful for a beginner to manage. However, it lacks a front fairing, so you'll feel a little more wind while riding and might cause you a slight problem driving in case of strong winds.
The Z125 is marketed as a new rider-friendly vehicle. It has a medium seat height of 31.7 inches, but it features adjustable components that allow it to be adjusted taller or shorter to fit practically any rider comfortably. Unfortunately, there is no anti-lock braking system available for the Z125.
6. KTM 390 Duke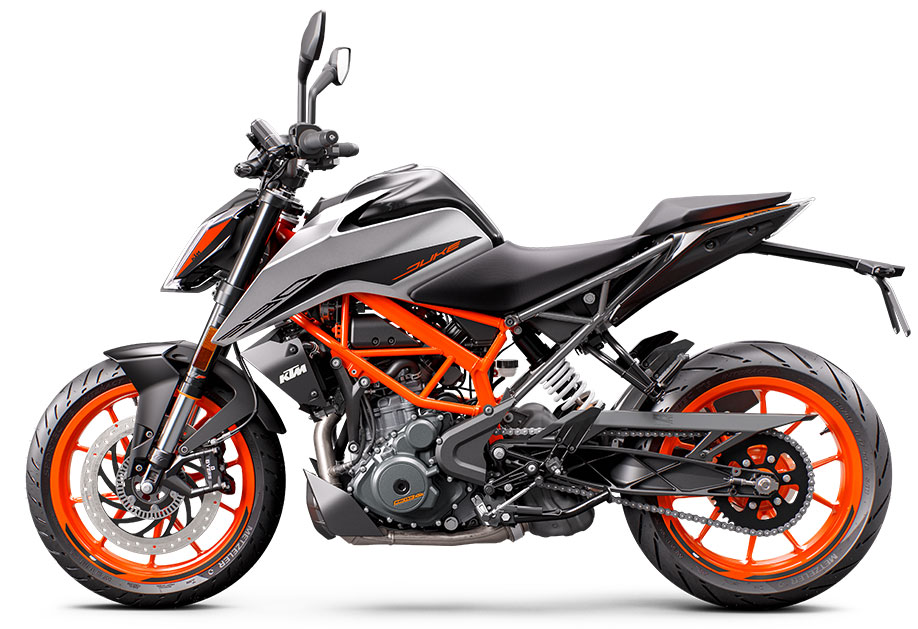 The KTM Corner Rocket is a Standard motorcycle with a naked frame and little fairing. It may also be used as a Sport motorcycle. The suspension is a little firmer, as it's designed to endure the severe cornering of the weekend touring or even sport riding. The power of this bike is moderate for beginners and is capable of achieving highway speeds with a modest single-cylinder engine making it ideal for new and young riders.
Because of the stronger suspension, the Corner Rocket has a mid-range seat height that won't give too much under the rider's weight. In addition, it comes with a variety of attachments that can be purchased for increased storage and personalization.
7. Yamaha V Star 250 Raven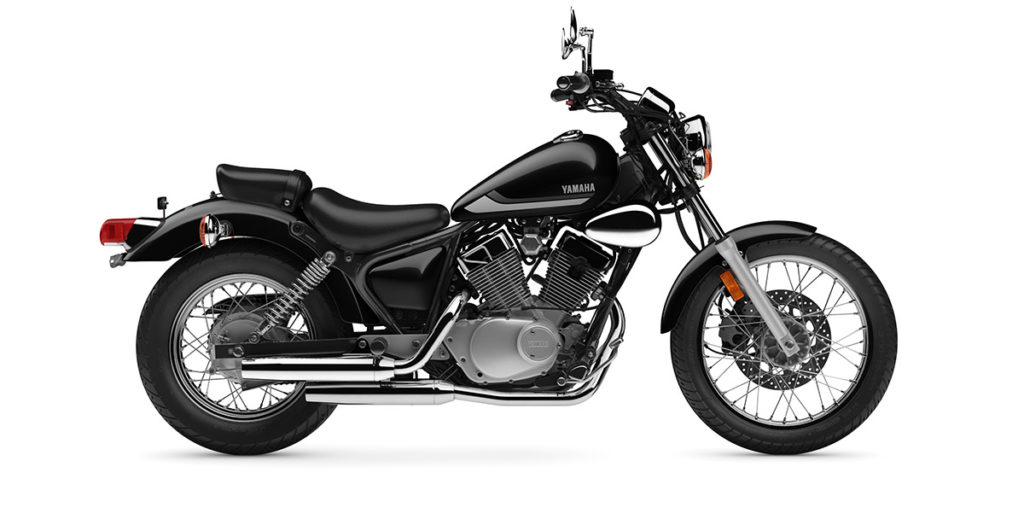 The Yamaha V Star 250 Raven edition continues that heritage of Yamaha Cruiser's long history of innovation. The 350cc engine of this low-slung cruiser is designed to run for lengthy periods. It has a cushy suspension that keeps you comfortable on short and long rides, allowing you to improve your riding endurance and skills.
The V Star 250 is an excellent first motorcycle for a beginner rider because it is light, has a low seat height, and is suitable for most new riders. In addition, it has excellent gas mileage, allowing you to put some serious miles on the odometer, and it comes with a wide range of accessories to complement your style.
8. Yamaha YZF-R3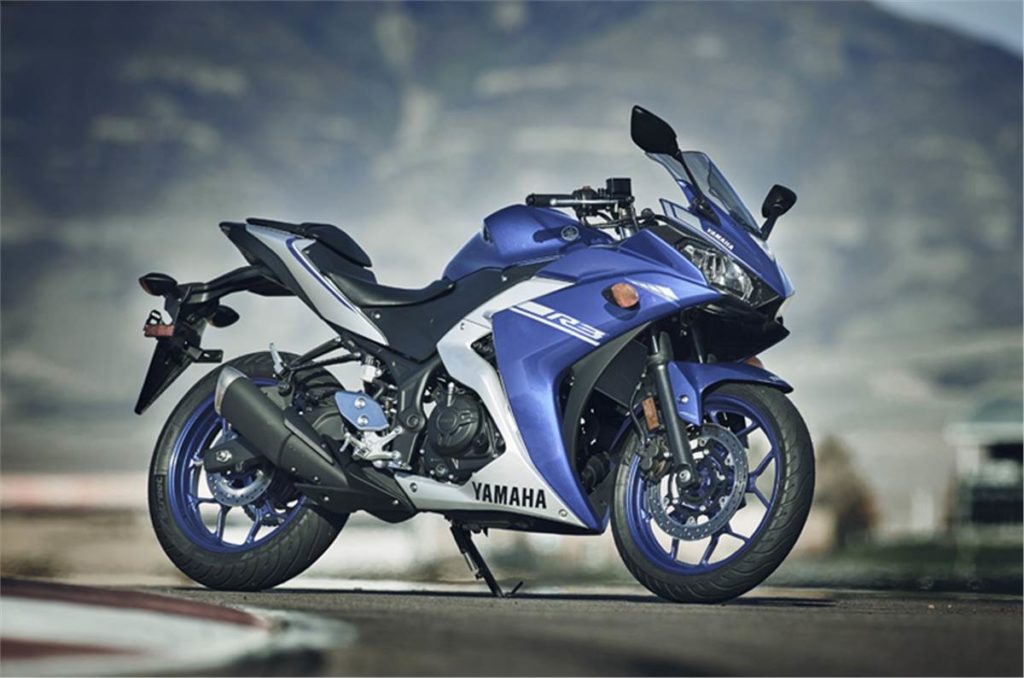 Among many other options, this here holds great value as it comprises unique features. As one craves adventures, Yamaha YZF-R3 has made it possible to conquer the roads with immense speed and horsepower. 
That being said, it flicks effortlessly when turned back and forth. Hissing like a snake and snarling around hastily spreading the mud around the corners. Who would want to miss this opportunity out?
Furthermore, the steel trellis and the amazing built-in aluminum tires with the low-weight seats make it one-of-a-kind to its fairly big suspension. Moreover, it has been manufactured with the KYB shock has been modulated to withhold great pressure. 
Therefore, we can say that this motorcycle is fairly balanced while riding on the roads. Thus, this bike is the best stock suspension and holds great value among the biker colonies. 
9. Kawasaki Ninja 400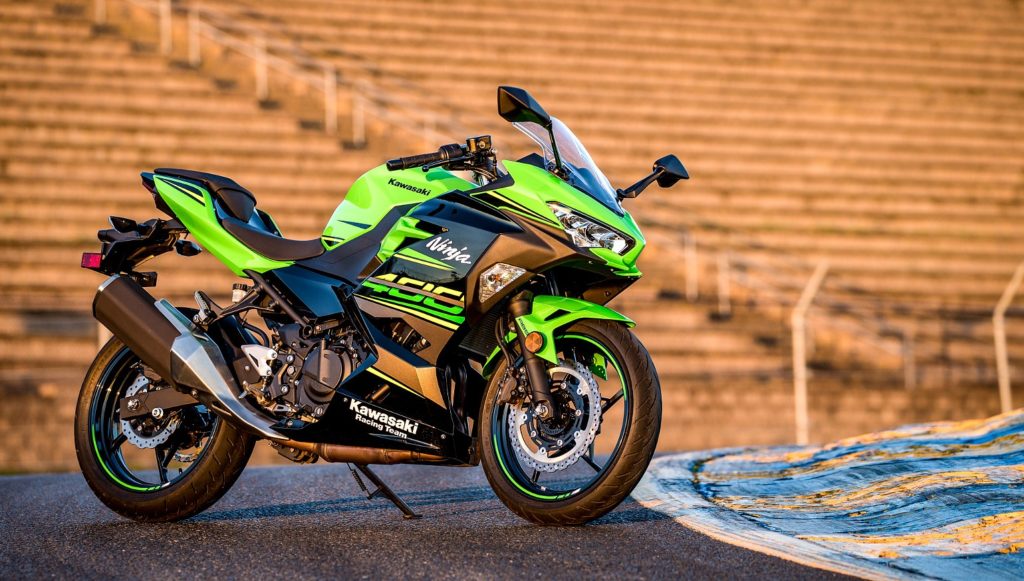 To meet the current needs of motorcycle lovers, this here is geared with such qualities. Offering the best and powerful engine that satisfies the users with its capabilities. Moreover, it is the standard style version of Ninja 400 that comes with the tubular handlebars, and given the right fitting, the seat is mounted with an upright position. 
Having said that, the 2020 Kawasaki Ninja 400 motorcycle offers a 399cc DOHC corresponding twin-engine for powerful mobility and speed. Moreover, Kawasaki assures the users with the high production of the engine`s 45 Hp that is almost 33.56 kilowatts for about 10,000 rate per meter, and along with that the 28 pound-feet of torque at almost 8,000 rpm.
Tips Before Buying your First motorcycle
A newbie needs to know about the important aspects of a motorcycle they wish to purchase. The market offers a variety of options, each with its specific and unique qualities. However, it is up to us to differentiate the best amongst them. 
That could only be done by doing research upon the various factors. However, it isn't very clear if you know so little about them. Having said that, we have gathered some useful information for our beginners who love adventure and want to have an ergonomic motorcycle in their possession. So follow along, and you`ll get the hang of them. 
1. Making a Wise Budget Plan
You need to budget down the purchase according to the affordability. Moreover, you`ll need good riding gear to have a safe and enjoyable journey. For such safety and precautionary measures, you are going to need a high-quality helmet, jacket, riding trousers, gloves, and boots are a must if you want to enjoy the thrill of bike riding. Before going to the shop, you should decide whether you want a new or used bike.
Learning to ride a new motorcycle is always dangerous and full of risks. However, when purchasing a novice motorcycle, a good secondhand motorcycle is a fantastic option. With each ride, you`ll spend more time on it and learn more things. So when you`ve outgrown your first bike, it`s time to start hunting for a new one.
2. Right Weight and Size
Among the novice riders, the common mistake they make is that they fail to determine whether a bike is fit for their requirement. It is important that they can easily handle their weight and their feet reaching to the clutch. For that reason, the first step is to check the compatibility of the bike with the user. Furthermore, your arms must be capable of reaching the handlebars.
If a bike is too heavy for you and you cannot manually move it or lift it off the ground, it is not a good option. Having said that, if your feet should be able to reach and rest comfortably on the pegs. You should be able to lay your legs flat on the ground, easily reach, and operate controls and brakes. These minor elements go a long way towards ensuring a safe and comfortable ride. 
3. Choosing the one that supports learning
Firstly, whenever you go out to purchase a bike is to do a little research on it. Narrowing down your options and shortlisting the features that you want in it. Listing things down that you demand in that product while narrowing down your options is the
a most effective way to get the right one according to your type.
However, certain aspects such as you should choose the motorcycle that you yearn for and learn more with it. That means your bike must become a challenge for you to control or get
ahead of it. Therefore, it is wise to know that your bike has some modifications that will help you in saving effort and time.
4. Motorcycle Horsepower
One of the most important factors among versatile motorcycles is the bike`s horsepower. When looking for a beginner motorcycle, bikes under 600cc are a wonderful starting point. It is not advisable to start with the most powerful motorcycle as a beginner rider because it might be dangerous. 
You might wind up in an accident owing to your lack of experience. However, do look at the horsepower of the bike. It should be enough for you to ride at highway speed. For such speed and power, it would be a perfect fit for you. 
5. Select your Style
Motorcycles show our individual and distinct styles. They reflect our way of life and who we are as people. So try your best to decide on a motorcycle style that is the best representation of you. Do consider practicality and efficiency before choosing the bike. 
You`ll appreciate your motorcycle the more you ride on it. So make sure to ride the bike before you take it home so you can get an idea of how it feels and whether it`s the right fit for you.
6. Customizing your new Bike
Customizing a motorcycle to meet your riding style is very common these days. Perhaps you would like to improve the sound of your first cruiser bike. In addition, you add fairings and a windshield to make long trips more enjoyable. 
You can always do something to improve the style that matches yours, the sound, comfort, and performance of your first motorcycle. Change the style of bike as per your choice and inspire others.
FAQs
What is the legit purchasing price one pays for their first motorcycle?
This factor depends upon your budget or how much you have decided to invest. On a general
basis, you don`t need to invest too much in getting a bike at first. It is your first experience, so you should start with less investment. Spending about 5k$ to 10k$ would be more suitable.
What should CC be of beginner`s motorcycle?
Well, according to research and on a general basis, 500 to 700cc is recommended for new beginners. First of all, they get good control over the bike, and your physical size fits using a motorcycle. You can also go for lower cc as this is a smaller engine.
Is 600cc too much for a beginner?
Most of the time, we recommend a beginner go for a bike with a smaller engine. The first time is usually difficult, and control over the bike is mandatory. Therefore, a higher engine could be a problem. It would help if you started with a bike with a smaller engine. However, 600cc is bigger for a beginner to handle.
Do you lean into a turn on a motorcycle?
Heavy bikes are usually difficult to turn, and for that, experts recommend learning. You have to apply some force in the direction you want to turn and lean in the same direction along with the bike. It takes time to practice, but you can become a good rider once you have a grip over it.
Final Verdict
Before you invest in a motorcycle, learn the information about motorcycles and then decide on what you need. If you require a motorcycle that can be used for daily rides or if you are looking for a sports motorcycle to compete with your friends and participate in competitions, then information you already have gathered will come in handy. It is easy to buy a motorcycle if you are well aware of the purpose for which you are spending your money.